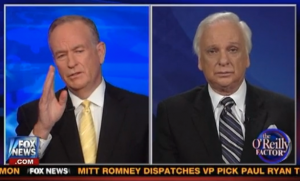 On his show Monday night, Bill O'Reilly had on Bernie Goldberg to take a look at how the media have treated Paul Ryan since he was announced as Mitt Romney's running mate. In particular, the two turned to MSNBC's Andrea Mitchell, criticizing her devolution from hard news journalist to one who makes unfounded conclusions.
The two narrowed in on Mitchell, recalling the comments in which she said, "He talked about our rights come from God and they don't come from government. They've decided that this is a base election. This is not a pick for suburban moms. This is not a pick for women. This is for the base."
Goldberg deemed the remarks "almost funny," quipping that what Mitchell meant to say is that it's not the pick for liberal women whom Mitchell hangs out with. Regardless of how she feels about Ryan's sentiment regarding rights, he asked, how does Mitchell jump to that conclusion?
The pair then lamented over how "MSNBC culture has washed over" Mitchell, who, O'Reilly noted, used to be a hard news journalist. Now she makes over-the-top comments, he said, noting that Ryan's thoughts overlap with those in the Declaration of Independence.
Reporters live in a bubble, Goldberg said, and Mitchell's is Georgetown. "When you hang out with too many like-minded people, you make the mistake of thinking everybody thinks that way," he added. "And they don't."
Toward the end of the segment, the two went over the recently announced presidential debate moderators. While they agreed that those chosen are smart and know what they're doing, O'Reilly lamented the lack of "juice" while Goldberg characterized the lineup as "traditional to a fault."
Take a look, via Fox News:

Have a tip we should know? tips@mediaite.com