O'Reilly Blames Lack Of Gov't Oversight For Tsarnaevs Getting $100,000 In Welfare, Tells Colmes To 'Shut Up'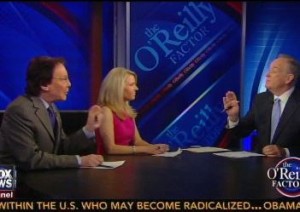 Bill O'Reilly kicked off his show tonight expressing outrage with the mother of Boston bombing suspects the Tsarnaev brothers for accusing the United States of a conspiracy to frame and kill her children, when her family has been taking more than $100,000 in welfare benefits for years. O'Reilly and Monica Crowley expressed outrage at the lack of welfare oversight, and when Alan Colmes challenged their claims, O'Reilly told Colmes to "shut up."
RELATED: Bill O'Reilly Blows Up In Epic Segment With Alan Colmes, Rages At Him: 'This Is Just Bull-Blank!'
O'Reilly called the mother "disgraceful" for her comments, and asked exactly why "we the people [are] supporting questionable foreign folks." He wanted to know why President Obama and Governor Deval Patrick aren't expressing outrage with the fact that the Tsarnaevs were getting welfare assistance, decrying the lack of outrage as "business as usual" for an immigration policy and a welfare system that turns a blind eye in situations like these.
Colmes told O'Reilly that he doesn't share his outrage over the story, saying that the Tsarnaevs received welfare because the parents qualified for it, and pointed out that it's not like anyone ten years ago thought the two boys would be involved in a terrorist attack on American soil. O'Reilly insisted that they were receiving welfare while they were freely going back and forth to their home country, and when Colmes attempted to interrupt O'Reilly, O'Reilly told him to "shut up."
Colmes pointed out that Patrick did not bring up the Tsarnaev welfare connection himself because he wanted to respect the privacy laws regarding welfare recipients. Crowley found it outrageous that the government supposedly doesn't care about privacy "unless you want to blow up the United States and kill a bunch of Americans." O'Reilly allowed that while privacy laws are there for a reason, "the public good overrides that" and that information should be made public.
O'Reilly confronted Colmes about the lax attitude of federal officials in supervising welfare payments, but Colmes insisted that they qualified for welfare at the time and said it has nothing to do with recent events involving the family. Crowley declared the "permanent handout" to be a norm in the United States these days.
Watch the video below, courtesy of Fox News:
—–
Follow Josh Feldman on Twitter: @feldmaniac
Have a tip we should know? tips@mediaite.com
Josh Feldman - Senior Editor