O'Reilly Blasts Columbia's Hiring Of Weather Underground 'Radical' And Left's 'Stranglehold' On Academia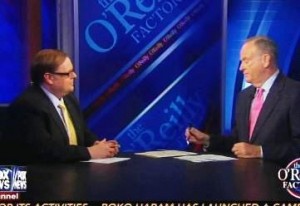 On Thursday's The O'Reilly Factor, Bill O'Reilly and guests discussed the hiring of radical Leftists by universities and the recent crop of stories concerning liberal professors' controversial classroom acts. Joining him to discuss were were Bob Zelnick, journalism professor at Boston University, and Fox News radio host Todd Starnes.
O'Reilly criticized Columbia University's hiring earlier this month of former "Weather Underground radical" Kathy Boudin, adding that colleges across the country are hiring "radical left people."
In 1981, when she was 38 years old, Boudin, along with several members of the Weather Underground and Black Liberation Army, participated in an armed robbery of a Brinks armored car, taking $1.6 million in cash. When police caught up to the getaway car (a U-Haul), Boudin, according to police testimony, reportedly exited the getaway truck, feigned innocence and, when the officers dropped their weapons, six of the men in the back of the getaway truck appeared with automatic weapons, overwhelming the four police officers. Two officers were shot to death on the scene, bringing the death toll to three. Boudin served 22 years in prison and was paroled in 2003.
In her new Columbia post, Boudin is a professor of social work. (Her bio on the university's website makes no mention of her past crimes.)
O'Reilly and Starnes noted the controversy over Darry Sragow, a political science professor at the University of Southern California who was videotaped, by one of his students, attacking Republicans, including Sragow calling Republicans "really stupid and racist" and "old white guys." O'Reilly bemoaned that this is "going on everywhere" and doubts there is a solution, in light of the "stranglehold on the university system." Starnes suggested that the solution lies in conservative students taking action, such as the student who filmed Sragow, or the student who spoke out against the classroom exercise of stomping on the word 'Jesus,' involving Florida Atlantic University's Dr. Deandre Poole. Starnes added that these kinds of incidents are "getting worse," citing a Harvard Crimson report on the treatment of conservatives at the school that found "young liberals are even more intolerant."
Zelnick noted that "the Left acts up, when the Left feels threatened," citing their response to McCarthyism, and that they are possibly fearful because "they are on the cusp of victory and they want to make sure that it doesn't slip away this time as it has in the past."
Click below for the segment, courtesy of Fox News:
—-
Follow AJ Delgado on Twitter >>> @missADelgado
Have a tip we should know? [email protected]