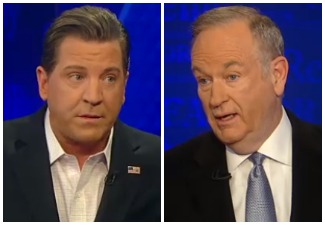 Bill O'Reilly came out strong supporting Tesla Monday night, arguing conservatives need to be rooting for them to succeed. Eric Bolling told O'Reilly tonight he doesn't like the idea of the government loaning money to companies in the first place (even though Tesla paid it off), and the men clashed over whether more people getting Tesla's electric cars would be good for the country and the world. He said, "You can be as cynical as you want, this is big." Bolling told O'Reilly that right now, "only the likes of DiCaprio, Clooney, and O'Reilly" can afford Tesla cars and argued electric cars can impact the environment through the use of coal-fired plants.
RELATD: O'Reilly: Conservatives Should 'Rethink' Alternative Energy, Root for Tesla to Succeed
O'Reilly argued not only that switching to Tesla cars would be the more environmentally conscious decision, but it would be a good way to stick it to OPEC and Vladimir Putin, telling Bolling "the greater good has to come into play." Bolling brought up Solyndra to make the point that even if Tesla is a winner, the government shouldn't pick and choose winners and losers by giving them money, bringing up companies like Apple and arguing that the government doesn't need to get in the way of innovation.
O'Reilly shot back, "This is about cleaner air and hurting the villains, so this is elevated above Apple and all the other computer products." Bolling questioned whether average Americans want the government to be messing around like this, but O'Reilly insisted that "what they want is relief from OPEC" and Putin. Bolling said if that's the case, fracking is the better way to go.
Watch the video below, via Fox News:

[photo via screengrab]
— —
Follow Josh Feldman on Twitter: @feldmaniac
Have a tip we should know? [email protected]
Josh Feldman - Senior Editor