O'Reilly Calls Out Jay Carney For Being Dodgy On IRS, Says Scandal Could Be Worse For Obama Than Benghazi
O'Reilly Calls Out Carney For Being Dodgy On IRS: Scandal Could Be Worse For Obama Than Benghazi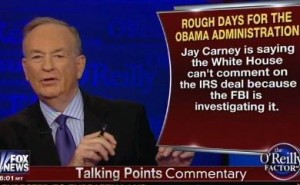 Bill O'Reilly tonight took on the latest details of the big Obama administration scandals, and in particular, zoned in on White House press secretary Jay Carney for refusing to say much about the IRS Tea Party targeting scandal due to an ongoing investigation by the FBI. O'Reilly called this out as a classic "ruse" that the Obama administration has used time and time again to avoid commenting on serious issues.
O'Reilly declared that the IRS scandal could end up being much worse for Obama than Benghazi, though the president did take some action earlier today by getting rid of the current acting IRS commissioner. He played video of Jay Carney saying earlier in the day that the White House cannot comment because the FBI is currently investigating it.
O'Reilly asked, "How many times are those guys going to use that ruse?" He found it outrageous that the public can't get information about the IRS blatantly "abusing its power" because there's an investigation. Naturally, this puts a lot of pressure on Obama for his big press conference tomorrow, and O'Reilly said the president needs to address all issues pertinent to the IRS scandal, the AP phone record seizure, and Benghazi, and not just brushing them aside as being part of ongoing investigations.
Carney also used the "ongoing investigation" defense last year when questions were piling up about the administration changing its story on Benghazi every other day.
Watch the video below, courtesy of Fox News:
—–
Follow Josh Feldman on Twitter: @feldmaniac
Have a tip we should know? tips@mediaite.com
Josh Feldman - Senior Editor