O'Reilly Challenges Newt Gingrich On 2012 Race, Relationship With Clinton As Speaker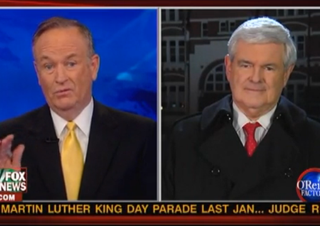 Tonight's O'Reilly Factor was somewhat of a nostalgia trip, as the first half of the program featured an extended interview with former President Bill Clinton, followed by this heated talk with Republican presidential candidate Newt Gingrich. O'Reilly hit Gingrich with questions just as sharp as the ones for the former president– in fact, the exact same question about the other man he interviewed today: "do you respect him as a man?"
O'Reilly began his interview with Gingrich, unexpectedly wearing a trenchcoat, by revisiting the comments Gingrich made over the weekend about the judiciary, implying that he would be comfortable sending law enforcement after judges if they made decisions he did not agree with. "People are blowing this way out of proportion," Gingrich responded, touting a paper on his website that included an argument for his suggesting including "precedents that go back to Madison, Hamilton, Jefferson, Jackson" (yes, it was this sort of interview).
O'Reilly replied that, while he understood the basis of his argument, "the mistake you made is you used a little guy, [Texas Judge Fred] Biery, that made an insane ruling." O'Reilly continued to make the point that Biery "was overturned, he doesn't know what he's doing, but you can't have Congress involved in foolish decisions at that level." Gingrich's answer was a simple "Why not?" followed by asking O'Reilly why "the American people have to tolerate an anti-religious bigot on the bench" when the host repeated that "they overturned the guy in ten seconds."
The second half of the interview focused on Gingrich's declining poll numbers. Gingrich responded that negative ads, many from Mitt Romney, "absolutely" hurt him, but he believed that "by sometime at the end of the week, the negative ads will be counterproductive." Gingrich also admitted rather humorously that even "I wouldn't vote for the guy they're describing!"
The chat then turned to Clinton, who Gingrich answered that he did respect, and with which there was "no comparison" vis a vis President Obama. "He's a very serious person and one who worked very hard," Gingrich concluded.
The interview with Gingrich (in two segments) via Fox News below:

Have a tip we should know? tips@mediaite.com