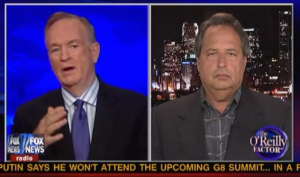 Jon Lovitz chatted with Bill O'Reilly on Wednesday about Lovitz's profane comments about President Obama. O'Reilly pegged the remarks as "disrespectful" — acknowledging Lovitz's perspective, but asserting that anyone in the office of the presidency deserves to be respected.
RELATED: Actor Jon Lovitz Explodes At Obama: 'What A F**king A**hole'
"You were kind of disrespectful," O'Reilly said. "Do you feel bad about that?"
"No, because you have to put it in context," Lovitz replied, specifying that he's a comedian, and the nature of that is to be "just open and honest." What you can't say on television, you can say in a private club, he said.
O'Reilly agreed, but noted that in today's day and age, everything's instantly shared online. Even though he's "sympathetic," he said, "I want the presidency, the office to be respected. I don't want those people using those kinds of terms to describe any president. Do you see my point?"
Yes, Lovitz said, but "I'm just a mouse" compared to the president. He added that he's also said Obama is "amazing," but "that wasn't the headline." But, O'Reilly said, people aren't going to take his remarks in the context of the issue he was talking about (which is the tax code and "class warfare").
"I don't think you meant to be personally disrespectful to Barack Obama," O'Reilly said, or "to denigrate the man as a human being." No, Lovitz agreed.
"No, I respect the guy," Lovitz said, before going on to dismiss the 1 percent versus 99 percent narrative. "I think it's amazing what he achieved in his life. But on this issue I think he is being not honest, let's say."
Take a look, via Fox News:

Have a tip we should know? [email protected]