O'Reilly Clashes with Carville Over Political Message of MLK Anniversary Speeches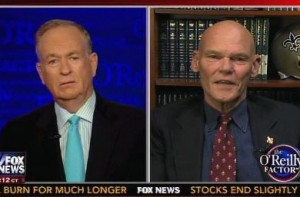 Bill O'Reilly brought James Carville onto his show Wednesday night to have it out with him over the big March on Washington and the messages of many of the speakers. O'Reilly challenged Carville on the lack of Republican speakers, the impact of Obama's policies on rising black unemployment, and the continued "grievance" from some of the speakers on how black Americans are being treated in modern America.
O'Reilly found it strange that "no Republicans and no conservatives were invited," asking Carville how that could possibly be. Carville admitted, "If it were me, I would have invited President Bush." It should be noted that ABC News and The Wall Street Journal detailed how many Republicans were invited, but declined (although Tim Scott, a Republican and the only currently serving black senator, reportedly wasn't invited).
RELATED: WATCH: President Obama's Full Remarks for 50th Anniversary of March on Washington
When Carville talked about issues like the wealth gap and black unemployment, O'Reilly pointed the blame at Obama policies, declaring that since he was elected there has been "no improvement for working Americans and black Americans." Carville pushed back that there have been some improvements, even touting improving education in Louisiana. O'Reilly said that's due to charter schools and not Obama's education policies.
O'Reilly then brought up the "grievance" shared by some of the speakers at the Lincoln Memorial, exasperatedly asking when all the complaining about America is going to stop. Carville did not criticize any particular speakers, but appeared to side with Obama and Bill Clinton's more positive messages about racial progress.
Watch the video below, via Fox News:
—–
Follow Josh Feldman on Twitter: @feldmaniac
Have a tip we should know? tips@mediaite.com
Josh Feldman - Senior Editor