O'Reilly Clashes With Juan Williams Over IRS Spending: 'Doing The Boogaloo On My Time' A Waste Of Our Money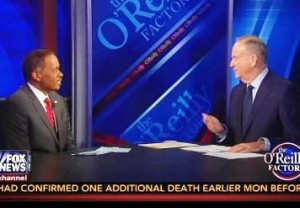 Bill O'Reilly and conservative writer Mary Katharine Ham got heated with Juan Williams tonight over the continued outrage over the actions of the IRS. O'Reilly in particular was fired up about former IRS commissioner Douglas Shulman visiting the White House over 150 times. Williams said that it's legitimate to raise questions about it, but they shouldn't impugn Shulman's character when it hasn't been fully clarified what he was doing there. He also said the IRS scandal is "wish fulfillment by Republicans" that will now give them leeway to block everything Obama does.
RELATED: Bill O'Reilly Rails: IRS Commish's 157 White House Visits 'A Smoking Gun!'
O'Reilly brought up the millions of dollars in spending the IRS did for "entertaining" and holding big conferences. Williams argued that lots of companies have these kinds of retreats, but O'Reilly shot back that "doing the boogaloo on my time" is a waste of taxpayer money. Ham remarked that this is what happens when you have big agencies with little accountability. She also took the media to task for not doing its due diligence in reporting on the case, saying that "you don't ask one question, take the White House's line," and then drop it.
O'Reilly admitted there is currently no evidence the White House was involved, which led Williams to a mini-hallelujah moment. He commended O'Reilly for admitting this and called the entire scandal "wish fulfillment by Republicans" who will now use the current wave of scandals as a jumping-off point to stop Obama from getting anything substantive done in his second term.
O'Reilly grilled Williams on what Shulman was doing in the White House over 150 times. Williams mentioned wasteful spending and health care, to which O'Reilly loudly confronted Williams about how Cabinet secretaries visited the White House far fewer times than that. When Williams admitted he wasn't familiar with those figures, O'Reilly incredulously asked, "Why are you defending people when you don't know?"
Williams insisted that no one should be impugning Shulman's character just because he went to the White House a lot. Although Williams said questions should be raised about his visits, O'Reilly ended the segment wryly remarking, "I don't think Juan wants to know."
Watch the video below, courtesy of Fox News:
—–
Follow Josh Feldman on Twitter: @feldmaniac
Have a tip we should know? tips@mediaite.com
Josh Feldman - Senior Editor