O'Reilly Clashes With Marc Lamont Hill Over Obama's Debt: 'He Doesn't Understand What's Coming'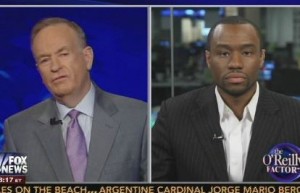 Bill O'Reilly threatened to finally agree with a large portion of his viewers and label President Obama a "socialist" Thursday night. But by the time he was done talking to Columbia Professor and frequent Factor guest Marc Lamont Hill, he just couldn't bring himself to do it.
The topic of O'Reilly's debate with Hill was Obama's recent assertion to George Stephanopoulos that his primary goal is "not to chase a balanced budget just for the sake of balance." O'Reilly contrasted that statement to one the president made when he was on the campaign trail in 2008. At a campaign stop in North Dakota, then-candidate Obama called the $4 trillion President Bush had added to the national debt "irresponsible" and "unpatriotic."
Hill couldn't quite figure out how to defend Obama on this one, besides to say that his 2008 comments were most likely a shrewd political move to gain votes from people who felt strongly about reducing the debt. Hill said he agrees with the president's current position, which lines up with what many economists say about a balanced budget not being absolutely necessary to a healthy economy.
O'Reilly fundamentally disagreed with Hill on this point, which led to him accusing Obama of being the second coming of President Herbert Hoover. Like Hoover, O'Reilly argued, Obama "doesn't understand the economy and doesn't understand what's coming."
Ultimately, as they often do, O'Reilly and Hill agreed to disagree, with the host insisting that all spending increases are problematic with the debt the way it is and the guest arguing that the right kind of "investments" will end up coming back to the federal government. Hill gave O'Reilly his chance to weigh in on the "socialist" question near the end, but O'Reilly declined. "I still don't think he's a socialist," O'Reilly said, "but a lot of the audience disagrees with me."
Watch video below, via Fox News:
—
>> Follow Matt Wilstein (@TheMattWilstein) on Twitter
Have a tip we should know? tips@mediaite.com