O'Reilly Defends Stephanopoulos From Dick Morris's 'Unfair' Claim He Is A 'Paid Hitman'
O'Reilly Defends George Stephanopoulos From 'Unfair' Claim He Is A 'Paid Hitman'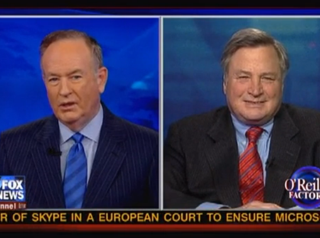 Dick Morris started off the week on Monday by going after ABC News' George Stephanopoulos, a former colleague of his during his tenure with President Clinton, for being a "paid Democratic hitman." That comment was made on Hannity, and tonight Morris was on The O'Reilly Factor, where host Bill O'Reilly made him elaborate on his point and chastised him for claiming there was an exchange of money between Stephanopoulos and the Democratic National Committee.
RELATED: Dick Morris: 'Newt Could Very Well Win In South Carolina'
Morris explained that he believed Stephanopoulos was the first to bring up contraceptives as a serious national issue during a debate earlier this year, and it was not until recently that the Democrats took that ball and ran with it in the debate currently in the air about the Catholic Church having to abide by a mandate from the President. "This is all of a piece to set up contraception as the new social issue replacing abortion to separate the left and the right," Morris argued, a claim O'Reilly didn't entirely see the merit to. "If I was Stephanopoulos, I'd slap you with the biggest lawsuit in the world," he told Morris, noting that he understood the framing of the contraceptive issue but adding that it was a big jump to make between that conclusion and the transfer of money. "Certainly, George Stephanopoulos is obsessed with contraception," O'Reilly ceded, but "you can't say he's on the take, he's in their pocket."
Morris lay clear that he thought Stephanopoulos "had been contracted by the Democrats to lay a hit on Romney," and added his personal experience: "you neglect to realize that I worked with him, and in fact for a year he basically worked for me, and we were constantly doing that." O'Reilly once again argued that Morris had "taken it too far– you can't prove it and it's not fair." Morris finally ceded that he did not believe Stephanopoulos had taken "a paper envelope with 20s," but insisted there was little difference between that and what he believed was actually going on. O'Reilly remained unconvinced for the rest of the segment.
The discussion via Fox News below:

Have a tip we should know? tips@mediaite.com