O'Reilly Factor Continues Multi-Part Report On Racialy-Charged Assault On Virginia Reporters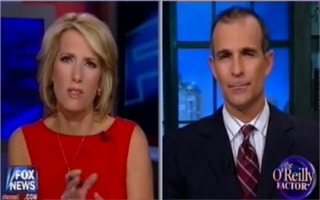 On Friday, conservative radio host Laura Ingraham, filling in for Bill O'Reilly on Fox News Channel's The O'Reilly Factor, continued a multi-day report on a racially-motivated assault on two white reporters in Virginia by multiple assailants. Their newspaper, The Virginia Pilot, did not report the story for two weeks and The O'Reilly Factor has charged in the past that there was an attempted cover up because the assailants were African American. On Friday, the Pilot's editorial board attacked The O'Reilly Factor for leading an assault on the paper.

RELATED: Tavis Smiley On O'Reilly: Underreported Racial Assault In Virginia Is Reminiscent Of Trayvon Case
The O'Reilly Factor has reported on this incident in the past, and has even likened it to the Trayvon Martin case as a similar incidence of under-reported racially-charged violence. Ingraham read a portion of the editorial in which the Pilot decried the characterization by O'Reilly and others that the paper was negligent in not reporting the incident sooner:
The reporters didn't deserve this act of aggression. But what about the Pilot? Does this paper deserve to be kicked in the head by everyone from Fox's Bill O'Reilly to hundreds of our readers? … It was a lapse in judgment not to report on a violent mob on a Norfolk street, but not a left-wing conspiracy. The reaction has been obscenely overblown.
Ingraham played a clip of a local Virginia news station reporting on the incident, which showed local residents telling reporters that they were not surprised by the action of some of their neighbors. One local young man told the reporter that the victims of the violent attack should not have been in that neighborhood in the first place.
Conservative radio host Dave Parker joined Ingraham and told her that the emotion surrounding the case does not necessarily comport with the facts of the assault. "There were no racial slurs hurled at these two reporters," said Parker. "This young man who 's 16, who was arrested as you mentioned, he's not going to be charged with a hate crime. So those are the facts that we know, but the feelings that have been expressed – and boy they have been vehement and they have been quite loud – the feelings are that there is some racial overtone. But that is conjecture. We can't prove that."
Parker went on to say that this event is something that happens throughout the country and it is unfair to single out this incident in Virginia for excessive criticism.
Ingraham rebutted that if the situation were reversed and it was a mob of white individuals assaulting two African American reporters, and there was little or no reporting and it was difficult to get information on the case from local police, "the outrage would be expressed quite vehemently in certain circles."
"You don't have to use a racial slur to feel like this was a racially-charged act," said Ingraham.
She then took aim at the Virginia Pilot. "They can bluster all they want about, 'oh The Factor is being too aggressive' and they were kicked in the head, or something," said Ingraham. "It's just ridiculous. This is an attack that should have been reported."
Watch the segment below via Fox News Channel:
Have a tip we should know? tips@mediaite.com