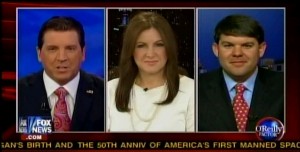 Somehow, the NFL's Philadelphia Eagles find themselves at the center of the news cycle this week. If people aren't talking about President Obama praising team owner Jeffrey Lurie for giving quarterback Michael Vick a second chance after his prison sentence, then they're talking about the assertion of Pennsylvania Governor Ed Rendell that the postponing of Sunday night's scheduled Eagles game to tonight (due to the blizzard that blitzed the Northeast) represents America's devolution into "a nation of wusses." Tonight, O'Reilly Factor guest host Eric Bolling debated that very topic with Fox news contributor Leslie Marshall and conservative commentator Ben Ferguson, and it's safe to say Rendell has plenty of backers.
Bolling immediately made his position known, urging the NFL to "man up," while Ferguson took the stance that the postponing is simply emblematic of a culture that expects the government to do everything for them. Marshall, for her part, thought that tying health care into the postponing of a football game, as Ferguson did, was a bit of a stretch. The conversation then segued into a "nanny state" debate (Bolling thought it was "alive and kicking" in America today), and somehow, taxes also eventually got brought up, leaving viewers to wonder: wasn't this originally about a football game getting called off?
We'll side with Marshall in saying that trying to make an overarching point about the "nanny state" and the loss of personal responsibility – all, ostensibly, because a football game got postponed in the face of a blizzard that eventually dropped around two feet of snow over a large area – doesn't prove much…except that there's not much else to talk about. Video of the clip, via Fox News, below.
Have a tip we should know? tips@mediaite.com