O'Reilly Factor Guest Infuriates Laura Ingraham With Claim That Farrakhan Is A 'Private Citizen'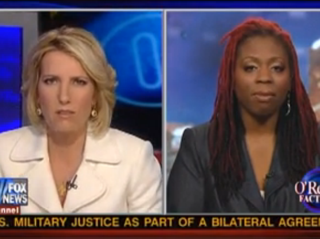 Believe it or not, Nation of Islam leader Louis Farrakhan is still a person that makes the news in 2012, getting his own segment about whether he should be giving lectures at universities on tonight's O'Reilly Factor. Host for the night Laura Ingraham noted that Farrakhan had spoken at UC Berkeley, and interviewed attendant Jasmyne Cannick for a take on why anyone would listen to him. Cannick noted that she found his words resonated and he had a right, but argued Farrakhan was only a public citizens because of the media, and he chose to stay out of that spotlight.
RELATED: Louis Farrakhan Warns Racism Could Result In Assassination: 'They Want A Muslim To Kill President Obama'
That argument didn't particularly go very far with Ingraham, though she began the interview noting that she considered more dialogue, not less, to be beneficial to the country. That said, she found Farrakhan's talk "extremely homophobic, extremely anti-Semitic" as well as "reprehensible" and "sad." "You may find that sad and reprehensible," Carrick replied, but Farrakhan "speaks to a certain group of people just like any spiritual or religious leader," and Carrick considered the bulk of his message to be about "black empowerment."
Ingraham asked what saying that "Jews control the media" had to do with black empowerment, and Carrick bizarrely replied that "people are saying more problematic things over public airwaves" and "Farrakhan is a private citizen." "You've got to be kidding, here," Ingraham replied, and after an exchange about his comments on Jewish people, Carrick noted "you can take a peek in any church in Anytown, USA and I can guarantee you will find someone who has a problem with what he says," but Farrakhan "is not broadcasting over airwaves" and, when he is, "the media put him out there." Ingraham didn't really buy the argument.
The segment via Fox News below:

Have a tip we should know? tips@mediaite.com