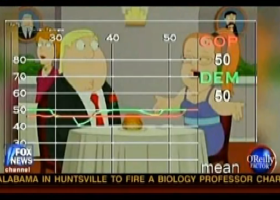 Americans can't separate Sarah Palin's person from her politics– that is the conclusion The O'Reilly Factor came to on Friday after having Fox News' resident pollster Dr. Frank Luntz survey Philadelphia voters on their reactions to the Trig Palin-inspired Family Guy episode that sent his mother into yet another fit of Facebook rage. The polling showed that "Republicans" were much more repulsed by the program and more likely to support Palin's plea to keep her son out of the political debate. "Democrats have a reputation of being more compassionate," Luntz noted, "yet the Democrats didn't find that offensive."
Luntz specifies at the beginning of the segment that the people used in the experiment are neither Democrats nor Republicans, but people chosen because they voted for Barack Obama or John McCain. Using the parameters Luntz himself sets, it is possible that some of those Obama voters specifically voted against Palin despite being Republicans, so the conclusion that Democrats are not as compassionate as they seem because eleven Obama voters from Philadelphia laughed at Family Guy seems like a bit of a stretch. Bill O'Reilly's point– that people find it difficult to separate Palin's person and family life from her politics– is a more likely theory, especially considering how much of the Palin platform centers around family values and personal issues that are appealing to social conservatives.
What O'Reilly fails to point out is that this knife cuts both ways, and outrage from Palin voters at the segment is probably more of a reaction to seeing Palin offended than it is to watching a program that ridicules special needs babies. In fact, Luntz points out that the Palin voter line "tanks" right after the character with Down Syndrome says her mother is the former governor of Alaska, moreso than when the characters are ridiculing the Down Syndrome girl's appearance without her having a political identity.
Watch the video below (and follow the nifty dynamic survey graph) below:

Have a tip we should know? [email protected]