O'Reilly Factor Takes Down 'Shrill,' 'Desperate' Chris Matthews: He Is 'Just Unglued These Days'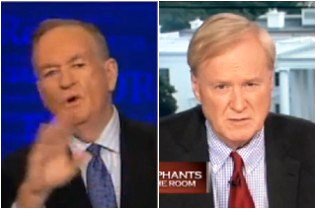 Bill O'Reilly fired back at Chris Matthews on his show Thursday night, following Matthews's observations that O'Reilly, Senator Ted Cruz, Pat Buchanan and other conservative figures all shared "black Irish" features.
"In addition to being misguided politically, Mr. Matthews also apparently needs glasses," O'Reilly said.
"In the last six months, it's all fallen apart for MSNBC," the Factor host said, blaming Matthews's racially-tinged musings on a need to be more incendiary to boost MSNBC's woeful ratings. "They're in a desperate situation right now."
Red State host Erick Erickson agreed.
"As the ratings go down," Erickson said, "as people are becoming more and more disenchanted with liberalism—it doesn't relate to people who live within 100 miles of a river valley, only twenty-five miles of a coast—people are tuning out, and they're becoming more shrill trying to keep the core audience."
"You've gotta be entertaining," he continued. "Frankly, I don't know that there is a lot of entertainment on MSNBC or a lot of liberal talk shows. There is a lot of anger there, still, even though they have won and been successful politically."
"It's a narrow cast," O'Reilly said, "but on television you can do okay with a narrow cast."
"You can't be narrow and angry," Erickson said.
O'Reilly compared the exodus from MSNBC to the hermitage of some conservatives following Romney's defeat, and pointed out that some MSNBC shows are leading off with the weather to avoid covering Obama's scandals.
"Chris [Matthews] is just unglued these days," said Tim Graham of the right-wing Media Research Center. "This network now has nothing to do but try to play defense, and some of these shows aren't even doing that. So you see these shows focusing on topics like pot brownies in Colorado and Wal-Mart shareholder meetings. Look, Tom Cruise showed up! They are not even willing to stand up for Obama because they just have nothing defensible to say."
"I get a kick out of this because Matthews thinks I'm a far-right fascist," O'Reilly said. "But the far right guys on the radio are taking me apart every day. I'm confused. I don't know where I am."
Watch Matthews on O'Reilly's "black Irish" looks, via MSNBC:
And O'Reilly's response, via Fox News:
—
>> Follow Evan McMurry (@evanmcmurry) on Twitter
Have a tip we should know? tips@mediaite.com