O'Reilly Fights Powers On Right's 'Obsession' With Black Crime: We Protect People 'No Matter What Color They Are'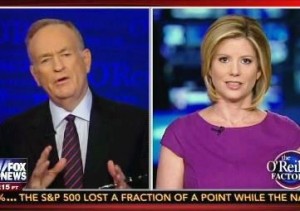 Fox News analyst Kirsten Powers got some heat for her comments over the weekend that conservatives are only now concerned with black-on-black crime to 1) distract from the Trayvon Martin case, and 2) to "stick it to the black community." Powers defended her remarks to Bill O'Reilly, after assuring him that she was not talking about him. O'Reilly challenged her by saying the outrage was fueled not by any desire to "stick it" to anyone, but in reaction to the "grievance industry" crying about racism.
RELATED: Kirsten Powers Battles Fox Panel: Right 'Obsessing' About Black Crime So They Can 'Stick It To Black Community'
Powers stood by her claim that black on black crime is a sudden "obsession" with the right, and considering how bad the crime rates have always been, she said it "seems strange to me that all of a sudden" they're bringing it up to distract from the Martin case. O'Reilly insisted "there's a context to it," telling her that violence is "generated primarily by blacks." Powers shot back that the majority of people "are actually killed by someone of their own race," but O'Reilly said, "That's a misleading stat!"
Powers insisted that all the whinging about dismissing the Martin case because he wasn't killed by a black person was odd, to say the least. O'Reilly defended the position as "protecting Americans, no matter what color they are." He made it clear that Martin "didn't do anything to deserve death," but also found it wildly irresponsible for anyone to assert that "white people want to hurt black people."
They also fought over whether the George Zimmerman trial was influenced by race, with Powers insisting that race was definitely a factor, while O'Reilly charged that official investigations found there was no evident racial animus involved.
Watch the video below, via Fox News:
—–
Follow Josh Feldman on Twitter: @feldmaniac
Have a tip we should know? tips@mediaite.com
Josh Feldman - Senior Editor