O'Reilly Flabbergasted At Dick Morris' Claims That Bachmann Is 'Brilliant,' Gingrich 'Popular'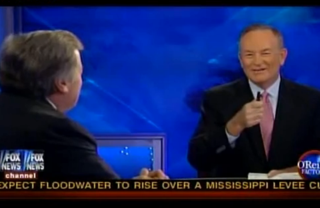 Finally, after a ghastly 24 hours, one brave soul has stepped up to defend the universally ridiculed debacle that is the Newt Gingrich presidential campaign: fellow 1990s staple Dick Morris. Unlike anyone else that has commented on it, Morris argued Gingrich's attack on the Rep. Paul Ryan budget would make him "very popular," with his biggest competition being the "brilliant" Rep. Michele Bachmann. And no, Bill O'Reilly wasn't buying it.
Morris, who was making his regular weekly stop on the Factor, began to evaluate Gingrich's behavior lately and came to the conclusion that he had actually positioned himself incredibly well. Stick with him here: "he said something that was very popular. He said that he opposed the cuts to Medicare in the Ryan budget." O'Reilly, one eyebrow arched so high it was nearly touching his hair, went as far as to agree that general election voters may feel that way. "In the primaries," he countered, "it isn't popular because those are the people, the rabid Republicans who have zeroed in on Obamacare." While Morris took the point, he also noted that many of the voters in the primaries are also seniors who depend on Medicare, no matter how much they love the budget cuts. "I've made a good living off of people getting hammered," Morris concluded as O'Reilly noted that Gingrich was "getting hammered" by everyone on the American right. "Says the guy who said Trump would stay in the race," O'Reilly retorted.
Moving on, Morris didn't hit any points that appeared more appealing to O'Reilly than the Gingrich point, beginning with the idea that Rep. Bachmann is "brilliant." "Wait… she's brilliant?!" O'Reilly exclaimed, with the disclaimer that he did, in fact, like the Congresswoman. "I don't think she's in Gingrich's league," Morris noted (sans sarcasm), "but who is?"
He ultimately made the gutsy prediction that Mitt Romney, Rep. Bachmann, Gingrich, and Indiana governor Mitch Daniels would be the last four standing.
The segment via Fox News below:

Have a tip we should know? tips@mediaite.com