O'Reilly Grills Bob Beckel: Why Are You Giving Obama Benefit Of The Doubt On IRS Scandal?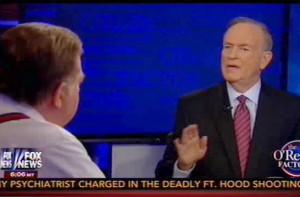 Bill O'Reilly tonight continued tearing into the Obama administration over the IRS targeting scandal. O'Reilly predicted that heads will roll over the agency targeting tea party groups, specifically Eric Holder's, and while guest Bob Beckel agreed with O'Reilly, he admitted to giving Obama the benefit of the doubt because he personally finds it hard to believe the president ordered the targeting in the first place.
O'Reilly brought up today's testimony (or lack thereof) by IRS official Lois Lerner, saying she "should be suspended" and that it's "possible she was clueless." He also slammed former IRS commissioner Douglas Shulman for not giving any concrete answers about what was discussed during his 118 visits to the White House. Shulman wryly said one of the reasons he went was for the Easter egg roll, which O'Reilly called a "wise guy answer."
RELATED: 'Simply Not Good Enough': Democrat Rips Into IRS Commissioner During Congressional Hearing
O'Reilly brought up polls finding that a strong majority believe the government is out of control, and that a little less than half of the country thinks Obama is honest and trustworthy. Beckel pounced on Lerner's testimony and said that it looks bad for her to plead the fifth after starting out by saying she didn't break any laws. However, Beckel quibbled with one of the polls O'Reilly cited, saying that Americans have traditionally believed the government is out of control.
O'Reilly asked Beckel why, with all his criticism of the IRS' actions, he is giving Obama the benefit of the doubt. Beckel said he honestly doesn't think Obama could have directly been involved in the IRS targeting, though he did agree with O'Reilly that it's fair to say Obama surrogates may have had a hand in the scandal. Beckel also added that the very kind of groups the IRS targeted were "causing trouble" in the last election cycle, and pointed out that Shulman was a Bush appointee.
Towards the end of the segment, O'Reilly remarked that Beckel always seems "befuddled" when he comes on The Factor. Beckel quipped, "You're a good interviewer, but you're not that good."
Watch the video below, courtesy of Fox News:
—–
Follow Josh Feldman on Twitter: @feldmaniac
Have a tip we should know? tips@mediaite.com
Josh Feldman - Senior Editor