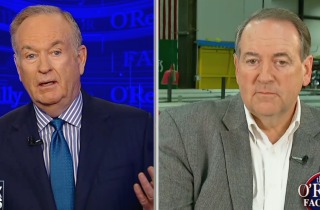 Bill O'Reilly confronted Mike Huckabee tonight over whether he's "casting aspersions" on Ted Cruz's faith.
There's a new group that released a radio ad in Iowa this week attacking Cruz on his religious convictions. According to Politico, the ad includes a mention of how Cruz allegedly does not tithe––give 10 percent of ones earnings to the church for charitable purposes.
O'Reilly tonight brought up how, in an interview, Huckabee said, "I just think it's hard to say God is first in your life if he's last in your budget. If I can't trust God with a dime out of each dollar that I earn, then I'm not sure how I can tell him that I trust him with my whole life."
He even called it a matter of authenticity for any truly religious person.
Huckabee denied he was specifically talking about Cruz. But McKay Coppins, the BuzzFeed journalist who Huckabee spoke to, wrote in his report that Huckabee said these things specifically in reaction to questions about Cruz's tithing.
Huckabee did get in some direct swipes at Cruz when he said that he personally doesn't say one thing in New York and another thing in Iowa.
But he insisted he wasn't questioning Cruz's faith. O'Reilly repeatedly pressed him and even asked Huckabee if he thinks Cruz is being a "phony." Huckabee said that's "something he needs to answer."
Watch above, via Fox News.
[image via screengrab]
— —
Follow Josh Feldman on Twitter: @feldmaniac
Have a tip we should know? tips@mediaite.com
Josh Feldman - Senior Editor