O'Reilly Guest Host Greg Gutfeld Brings On Dana Perino To Talk Media Fawning Over Obama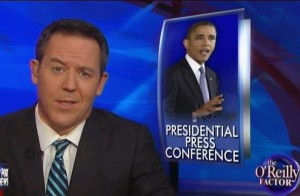 Greg Gutfeld, filling in for Bill O'Reilly tonight, brought up President Obama's press conference this week and one reporter in particular who seemed to be fawning over the president. Gutfeld quipped that she acted like "she's meeting Justin Bieber and brought on his The Five co-host Dana Perino to talking about how cozy the media seems to be with the Obama administration.
RELATED: O'Reilly Blasts Obama's Press Conference: Journalists 'Allowing The President To Roam At Will'
Perino said that Obama is just naturally charming, and while "reporters talk a great game" beforehand, when they get into the room with Obama they just start acting star-struck. Gutfeld also pointed to Obama's defense of U.N. ambassador Susan Rice as an example of the president using "personal faux outrage to blunt criticism."
Perino wondered why Obama does not hold more press conferences, pointing out that Obama had previously promised to hold one a month. Gutfeld admitted he couldn't stand any more press conferences, and said that they would be pointless anyway since the "media's love for him has blunted the ability to report objectively" on Benghazi. Perino cited the Watergate investigation as an example of journalists doing their job looking into a presidential administration.
Gutfeld brought up the infamous Valerie Plame case under the Bush administration, pointing out that unlike in Benghazi, no one died as a result of that scandal or Watergate. Perino also addressed the scandal involving the firing of nine U.S. attorneys during the Bush administration that the media covered on the front pages. Now, she said, reporters who want to cover Obama administration scandals won't get their stories on the front page.
Gutfeld and Perino suspected that news editors might be pressuring reporters to kill stories unfavorable to the Obama administration. Gutfeld suspected that the press might be on to something with investigating into the Benghazi scandal because now the rae card has been played.
Watch the video below, courtesy of Fox News:
—–
Follow Josh Feldman on Twitter: @feldmaniac
Have a tip we should know? [email protected]
Josh Feldman - Senior Editor