O'Reilly Guests Clash Over Obama's Overwhelming Support In The Black Community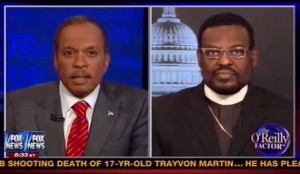 Juan Williams, filling in on The O'Reilly Factor tonight, led a discussion between two black religious leaders over President Obama's support in the black community and what Mitt Romney could do to attract a bigger percentage of it to him. Despite the high unemployment numbers in the black community, one of Williams' guests predicted that gay marriage would have a more significant impact on African-Americans not voting for Obama than anything else.
RELATED: African-American Reverend To Megyn Kelly: Obama Is Taking Black Vote For Granted
Williams drew attention to Obama's overwhelming support in the black community despite black unemployment being over 14 percent, which Romney highlighted during his speech to the NAACP. Williams contrasted Romney's policy focus on Biden's more "philosophical" speech at the convention, and asked his guests how Obama could be getting 92 percent of support among blacks. Williams suggested it might be racial loyalty.
Rev. Conrad Tillard argued that "African-Americans have suffered disproportionately under every administration," and given the choice between the political philosophies of Romney and Obama, most African-Americans would ally themselves with the president. Bishop Harry Jackson suggested that George W. Bush won reelection in 2004 because black support for the Republicans changed, not drastically, but just a few percentage points, and that was enough. He cited gay marriage as an example of what is keeping a significant amount of African-Americans from voting for Obama this time around.
Tillard shot back by saying the black community does not cast its vote based on a singular issue, and the Democratic party is still going to get their support come November. Jackson said Romney has a good chance to "target the black community" with a positive message.
Watch the video below, courtesy of Fox News:
Have a tip we should know? tips@mediaite.com
Josh Feldman - Senior Editor