O'Reilly Questions Why 'Racially Charged Mob' Assaulting White Couple Was Covered Up By Local Paper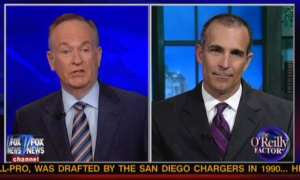 On Wednesday night, Bill O'Reilly tackled a story about a beating in Norfolk, Virginia that went unreported in the local newspaper until an opinion piece was published about two weeks later. A group of men assaulted two reporters who, in fact, worked for that same paper, The Virginian-Pilot. O'Reilly attempted to make sense of the why the paper "covered it up."
O'Reilly recounted the "racially charged crime": a group of black men attacked reporters Dave Forster and Marjon Rostami, who are both white, when they were driving home. The details from the Pilot's story, which was published Tuesday:
Two weeks have passed since reporters Dave Forster and Marjon Rostami – friends to me and many others at the newspaper – were attacked on a Saturday night as they drove home from a show at the Attucks Theatre. They had stopped at a red light, in a crowd of at least 100 young people walking on the sidewalk. Rostami locked her car door. Someone threw a rock at her window. Forster got out to confront the rock-thrower, and that's when the beating began.

Neither suffered grave injuries, but both were out of work for a week. Forster's torso ached from blows to his ribs, and he retained a thumb-sized bump on his head. Rostami fears to be alone in her home. Forster wishes he'd stayed in the car.
Dave Parker, a talk radio host, joined O'Reilly's discussion. "Why in the world did our community not find out about this for two weeks?" He further pointed out that when the Pilot did mention the incident, it was not through a prominent story, but rather through an op-ed piece. It should have been "above the fold," he said. "This is a safety issue."
In that same Pilot piece came some of the paper's reasoning behind publishing the op-ed at all:
Here's why their story is in the paper today. We cannot allow such callousness to continue unremarked, from the irrational, senseless teenagers who attacked two people just trying to go home, from the police officer whose conduct may have been typical but certainly seems cold, from the tweeting nitwits who think beating a man in Norfolk will change the death of Trayvon Martin.
O'Reilly then worked out the scenario, trying to understand the paper's logic:
Here is what the paper says. The paper says number one, the police filed this as a simple assault. Okay? So, in the paper's eyes this doesn't warrant coverage. A simple assault. Number two, the paper says the reporters didn't want it reported, which shouldn't matter at all. I mean, if you are a newspaper or a television organization, as a story you report the story. Here is why that doesn't wash, this is what I think happened. You have this mob that attacked them. That's dangerous, and that's the story. Whenever you have a racially charged mob, that's a big story. It looks to me like Pilot is politically correct and didn't want to get in the middle of the racial aspect.
He further noted that the 911 call made by Rostami, the female reporter, is "harrowing" — and played some comments from people in the neighborhood, which included one man saying, "If you are not from around here you don't know anybody around here, you're a target, automatically."
Asked about a racial problem in the area, Parker said, "Since we're part of America, there is a racial problem here." He then observed, "If these racial roles were reversed, this would be a huge national story. All of the individuals that were down in Sanford, Florida would be here in Virginia Beach, in Norfolk."
"The bottom line is this," O'Reilly said, "it looks like this was a race deal. […] A big newspaper that serves the community knew about it and covered it up. This is crazy. You can't have this stuff."
On Wednesday, editor Denis Finley published part of a memo sent to the Pilot's news staff. Including:
Many, including news organizations around the country, are assuming and making judgments based on information they do not have. That's a shame, it makes us look bad.

We did not cover up anything. We bend over backwards to treat ourselves the same way we would treat any other member of the community. In fact, we go overboard at times to make sure there is no perception that we have treated ourselves favorably because of our position.

Did we go too far here in holding to this standard? I don't know, I will always ask myself that question. But we made our decision based on the facts we had. That's all we can do. As journalists, we report facts, not assumptions.

We have done our due diligence with the story. We have checked the police report. I have read it. On its face, it would not merit a story. We have checked that neighborhood to see if there is an inordinate amount of crime there. There is not.
Take a look at the segment, via Fox News:

Have a tip we should know? tips@mediaite.com