O'Reilly Joins Jon Stewart In Piling On CNN's Boston Coverage: 'If You Don't Know, Don't Say' Anything
O'Reilly Joins Stewart In Piling On CNN's Boston Coverage: 'If You Don't Know, Don't Say' Anything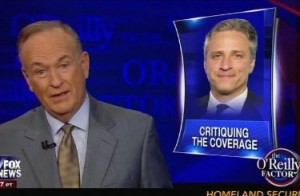 Bill O'Reilly tonight played Jon Stewart's harsh criticism of CNN for its over-the-top coverage of the Boston manhunt last week for the two bombing suspects. O'Reilly acknowledged that reporters are in a tough position when they're struggling to find anything new to break to viewers, but largely agreed with the criticism, saying that CNN relied "too much" in being on location in Watertown, and that too much of their coverage was pure speculation.
RELATED: 'This Is CNN?' Stewart Destroys His Favorite Target After A Chaotic End To A Terrible Week In Boston
O'Reilly admitted that most of what Stewart faulted CNN for was the result of news networks finding every which way to cover hours and hours of nothing. O'Reilly defended his own coverage, saying that when the "hard news slowed down," he brought in guests like Geraldo Rivera to analyze and talk about the details of the case instead of spending time on reporters struggling to find any which way to fill time. He said, "CNN relied far too much on just being there."
Crowley criticized how cable news networks treat every little thing with the utmost of urgency and manufacturing energy. O'Reilly acknowledged that reporters might go to tiny details out of desperation when the news desk cuts over to them, while Colmes added that the "reporters are not the star of the story," and commended O'Reilly for bringing experts on the show to fill time.
Crowley said networks are generally concerned about coming acros as "jerks" for shifting away from a big story like this to cover something else when nothing is happening. She said that working on the radio is good experience for situations like these, because on radio shows you have to be able to fill hours of time with just talk. O'Reilly added that too much of the Boston coverage was no more than speculation, saying "if you don't know, don't say."
Watch the video below, courtesy of Fox News:
—–
Follow Josh Feldman on Twitter: @feldmaniac
Have a tip we should know? tips@mediaite.com
Josh Feldman - Senior Editor