O'Reilly, Kirsten Powers Clash Over Whether Cory Booker's Critical Remarks Will Actually Benefit Obama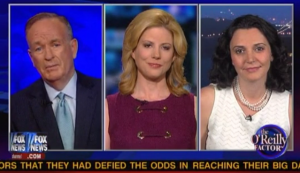 On Tuesday night, Bill O'Reilly was joined by Kirsten Powers and Margie Omero (a Democratic strategist) to discuss Newark Mayor Cory Booker's headline-making remarks, which he since then has vehemently clarified.
RELATED: On Maddow, Cory Booker Blasts GOP For 'Manipulating' And 'Exploiting' His Meet The Press Comments
Noting Booker's appearance on Rachel Maddow's show last night, O'Reilly said Booker looked scared, that he "got pounded" by David Axelrod. Powers didn't so much agree about him looking scared, and went on to discuss Booker's defense, in which he said he was taken out of context. It's more likely he misspoke, she said, intending to criticize negative campaigning — rather than equating Bain and Rev. Jeremiah Wright attacks.
O'Reilly begged to differ, adding "there was so misspeaking." What he said was what he meant — but it got him chastised by Team Obama. More generally, Omero said this won't be the last time a surrogate makes news, adding that Booker does want to be helpful to the president's re-election effort.
Romney has made Bain the centerpiece of his campaign, Powers said, so it's "perfectly fair to look at this." It's "an absolute winner," she added, disagreeing with O'Reilly: the more Republicans attack Booker, the more this issue works in the president's favor. They benefit by having more people directed to Obama's Bain ads.
Omero added that Romney's Bain experience underscores what we know about him. Since Team Obama won't let it go, O'Reilly said, Romney needs to define the narrative about his Bain experience.
Take a look, via Fox News:

Have a tip we should know? tips@mediaite.com