O'Reilly Lashes Out at Mother Jones and CNN's Brian Stelter: 'Far-Left Zealots' Smearing Me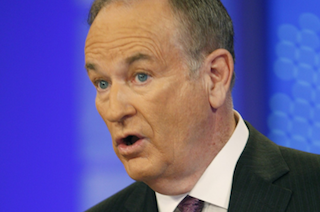 The Bill O'Reilly dispute with Mother Jones just keeps getting more intense.
For those not up to speed, the magazine's editor David Corn alleged on Thursday that the Fox News host had embellished his experiences as a CBS reporter covering wars in El Salvador and the Falkland Islands. O'Reilly hit back via phone interviews with the media, calling the Mother Jones charges "bullshit," accusing Corn and others of "gutter-sniping" at him despite O'Reilly's record of being "absolutely accurate."
As we reported earlier today, the Factor is set to address the controversy once more, but this time during the "Talking Points Memo" portion of his nightly broadcast. The full transcript has made its way online in advance of the 8 p.m. ET broadcast.
From the outset, O'Reilly throws bombs at Mother Jones ("a far-left magazine" with "low circulation"), David Corn ("liar"), and media outlets that have given favorable coverage to the allegations.
"I'm sorry," tells his audience. "I have to deal with this garbage tonight."
He goes on to explain his side of the story:
Basically David Corn, a liar, says that I exaggerated situations in the Falklands War and Salvadoran War. Here's the truth: Everything I've said about my reportorial career — everything — is true. 33 years ago in June, Argentina surrendered to Great Britain, ending the Falklands War. I was covering the conflict from Argentina and Uruguay for CBS News. After learning of the surrender, angry mobs in Buenos Aires stormed the presidential palace — the Casa Rosada — trying to overthrow the government of General Leopoldo Galtieri. I was there on the street with my camera crews. The violence was horrific, as Argentine soldiers fired into the crowd, who were responding with violent acts of their own. My video of the combat led the CBS Evening News with Dan Rather that evening and, later on, I filed a report that ran nationwide. That's what happened. I never said I was on the Falkland Islands, as Corn purports. I said I covered the Falklands War, which I did.
O'Reilly will present a CBS internal memo from 33 years ago that praises his coverage abroad. "[D]idn't have the time last night but would like to say many thanks for the riot piece last night," the telex reads. "WCBS-TV and WCAU-TV both took the entire piece, instead of stripping it for pix. They called to say thanks for a fine piece. Thanks again. Your piece made the late feed, a winner last night."
He will also present a letter he wrote in 1982 to CBS News' then-chief describing how "the riot had been very bad, we were gassed, shot at, and I had the best vantage point in which to report the story."
O'Reilly will cite these documents as "rock solid proof" that Corn and others have smeared him. "I had to spend hours last night on the phone with various reporters and crawling around my basement covered with dust to find documents from 33 years ago," he laments. "All because an irresponsible, guttersnipe — a far-left zealot who has attacked Fox News many times before — spit this stuff out on the net."
He also attacks CNN's media reporter, Brian Stelter, alleging he's a "far-left zealot masquerading as a journalist" for having picked up the Mother Jones allegations last night and discussed them on television.
"Real journalists knew this story was BS from the jump," O'Reilly adds.
Watch below via Fox News:
— —
Have a tip we should know? tips@mediaite.com