O'Reilly: Media Bias Makes Honest Conversation About Gay Marriage 'Nearly Impossible'
Media Bias Makes Honest Conversation About Gay Marriage 'Nearly Impossible'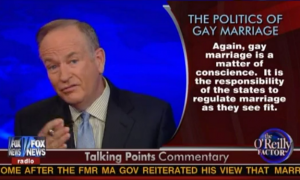 President Barack Obama's decision to support same-sex marriage will become a campaign issue, Bill O'Reilly said on Thursday. Taking a look at the politics of marriage, O'Reilly knocked the media for being unable to have an honest debate about the issue, singling out one particular New York Times reporter.
The economy will drive the vote, he said, but social issues do remain important to many voters. O'Reilly's take? "It's a matter of conscience." There are "good people" on both sides of the issue, he said — and there are "bad people who exploit the issue with accusations of bigotry."
In agreement with Obama, O'Reilly said the matter should be up to the states. He then pointed out that seven states have legalized gay marriage, but 38 states have passed some form of legislation opposing it. For the president, he said, "this is not a winning hand. He can pretty much say goodbye to North Carolina." Prospects in Virginia, Nevada, Ohio and Florida might also be hurt.
Obama does seem to understand the "political danger," O'Reilly said, noting that the media, on the other hand, is quite happy about the president's change of heart. In fact, he said, it's "nearly impossible" to have an honest debate about the issue because opposing same-sex marriage renders a person a bigot and a homophobe by default.
"Most of the media will not even consider the traditional point of view on marriage," he argued. As Exhibit A, O'Reilly pointed to The New York Times' Brian Stelter writing that O'Reilly "complained last fall when Chaz Bono became the first openly transgender contestant on ABC's Dancing with the Stars."
Not exactly, O'Reilly said, asserting that Stelter wrote a "falsehood" in order to "demonize" O'Reilly and Fox News. We have a constitutional right to pursue happiness, O'Reilly said, but this country isn't "compelled to change societal norms, unless there is grave damage being done."
O'Reilly concluded that the politics of marriage will most likely hurt Obama come November — but the media won't report that.
Take a look, via Fox News:

Have a tip we should know? tips@mediaite.com