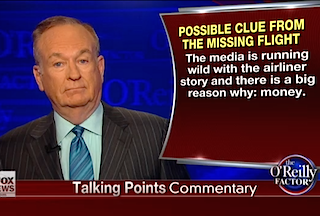 Bill O'Reilly continued his ongoing crusade against the media coverage of the missing Malaysia Airlines Flight 370 plane Thursday night with an opening monologue that took down print newspapers, network news and especially his cable competitors at CNN and MSNBC. In O'Reilly's view, the missing plane story is an easy way for the mainstream media to ignore stories like IRS targeting and the attack on Benghazi with impunity.
After reporting the latest facts of the investigation, O'Reilly predicted massive speculation on possible debris off the coast of Australia. "The media is running wild" with the story because, as he explained, it's good for business. Newspapers need "bold headlines." Network news "doesn't want to cover important stories like the IRS and Benghazi, but they can cover the airliner without any political consequences."
Noting the "brutal war for ratings" in cable news (his own show was defeated at the hands of Anderson Cooper last week) O'Reilly indicated that Fox would not stoop to CNN's level by going "wall-to-wall" on the story. On the other hand, he said MSNBC is staying the "liberal course" and not spending to much time on the plane. "But, if they can find a way to blame Chris Christie, things may change," O'Reilly snarked.
O'Reilly used the story to tell his viewers that today's media is not what America's founding fathers envisioned. While he said there's "nothing wrong" with covering the airliner story, as he proceeded to do for the rest of his show's first segment, he said problems occur when the media "panders" to its audience or "fabricates" information.
"We're living in an extremely dangerous age where thugs like Putin and the mullahs of Iran could ignite a world war," O'Reilly declared. "We need honest and courageous media. Do we have that?"
For more of Mediaite's coverage of the missing plane, check here.
Watch video below, via Fox News:
[photo via screengrab]
— —
>> Follow Matt Wilstein (@TheMattWilstein) on Twitter
Have a tip we should know? [email protected]