O'Reilly: Media Matters 'Coordinating' With DNC & MSNBC Would Be 'Blatant Corruption Of The First Amendment'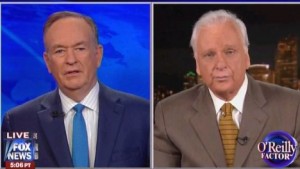 If you turned on The O'Reilly Factor tonight hoping to hear Bill O'Reilly go on about liberal media bias, you're in luck! O'Reilly's entire first segment of the show focused on how influential, mainstream media outlets are getting information from left-wing media watchdogs and it has a disturbing influence on the general public.
RELATED: Steve Doocy: 'Media Matters May End President Obama's Hopes Of Getting Re-Elected'
O'Reilly brought up the last interview Andrew Breitbart ever did, accusing Media Matters of being in collusion with both MSNBC and the Democratic National Committee. O'Reilly reminded viewers that he's been sounding the alarm bells about that website, and its ties to billionaire George Soros, for years, and then revealed that there is more evidence that what Breitbart said is correct. Remember when several media outlets noticed a divergent trend between Fox News coverage of rising gas prices under George W. Bush and Barack Obama?
Well, it came from a video compiled by Media Matters. And in the video, O'Reilly is saying that any politician who says they can lower gas prices is full of "BS." But in the full context of the clip, O'Reilly does criticize the Republicans (which he says included Bush) for letting "big oil do whatever it wants" while refusing to "reign in corrupt speculators" who are trying to raise gas prices. O'Reilly then accused MSNBC of deliberately taking his words out of context, before explaining that unlike in previous years, when liberal media bias was just simply noticed in their selection of stories that reflected positively or negatively on both sides, "national news agencies are actually lying to you."
O'Reilly warned that the presidential election might end up being reported unfairly by many major news outlets, before getting to the big problem at hand.
"But if Andrew Breitbart's contention is true, that the Democratic party is now coordinating with Media Matters, who is coordinating with MSNBC, that is troubling, and a blatant corruption of the First Amendment."
Then O'Reilly brought on Bernard Goldberg, who actually disagreed with O'Reilly's contention that such collusion would have a noticeable effect on voting trends. He said that while Media Matters does have some allies in the media, these allies are not necessarily in positions of power, and Goldberg noted that Media Matters isn't necessarily making journalists more or less liberal than they already are. Goldberg agreed that Media Matters is "annoying," but its influence on the electorate is negligible.
RELATED: Tucker Carlson Suggests White House Is Coordinating With Media Matters To Attack Fox News
O'Reilly shot back by referring to the out-of-context clip of himself being picked up by mainstream media outlets, suggesting that such a strong, mobilized effort to get the video out there would certainly affect people. Goldberg admitted that it might have a slim effect on certain voters, but maintained it would not affect the outcome of the November election.
Watch the full segment below, courtesy of Fox News:
Have a tip we should know? tips@mediaite.com
Josh Feldman - Senior Editor