O'Reilly: MSNBC Beats 'Boring' CNN By Being The 'World Wrestling Federation' Of News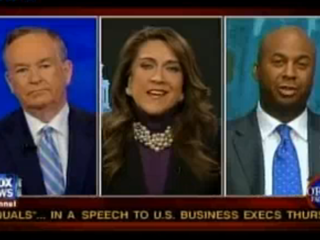 Given the heated rhetoric from both sides coming out of the House floor today, Bill O'Reilly took the opportunity to evaluate the ability of those on the left to follow directions– namely, the directions from President Obama to tone down the harsh rhetoric in light of the Tucson murder. O'Reilly, not surprisingly, does not believe the Democrats have done a good job of keeping to that message, but the so-called "professional left," he predicts, will never tone it down.
The extended conversation on civility comes after Democratic representatives Steve Cohen and Sheila Jackson Lee came under fire for comparing Republican talking points to Nazi propaganda and claiming that repealing of last year's health care bill would kill children, respectively. O'Reilly asked guests Maria Cardona and Michael Brown to speculate as to what President Obama's response will be to their tone. Cardona argued that any public reaction to their rhetoric would give the Democratic party and unsightly look of divisiveness, and expected the President to enforce his call for moderate tone through private means. Brown seemed to agree, and believed that, if the President could control the Democrats and keep their heated rhetoric down, "this could strengthen the President."
O'Reilly disagreed with Brown in believing that the President was capable of keeping them at bay, though beyond Congressional representatives, O'Reilly saw absolutely no chance that liberals in the media would keep their tone measured. "These far-left bombers, especially in the media, are so far out of control that they're just going to ignore it," he noted, calling out MSNBC specifically as marketing in "personal attacks" that won't stop. He appeared to have as a main goal attacking MSNBC for their programming, but took a swipe at CNN in passing, arguing that the reason MSNBC would not stop their personal attacks was because it put them ahead of CNN in the ratings– easy, he noted, because "CNN is so boring, when they open their mouths, dust comes out."
Poor CNN, but MSNBC did, finally, get the worst of it: "The other people said 'You know, we could beat them. We're not as good covering the news– we'll never cover the news as well as CNN– so we'll attack people. We'll be the World Wresting Federation." Cardona and Brown did not follow this line of attack as rigorously– Cardona, in particular, argued that the responsibility fell to elected officials, not the media.
The segment via Fox News below:

Have a tip we should know? tips@mediaite.com