O'Reilly: MSNBC Is 'Putting Innocent People In Danger' With Impassioned Trayvon Martin Coverage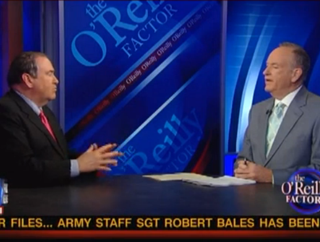 Bill O'Reilly clearly doesn't think all that much about the way other networks have been covering the Trayvon Martin coverage. O'Reilly opened his program last night attacking what he considered "pathetic" attempts to "whip up the Trayvon Martin case to dangerous levels," particularly by MSNBC, but he included CNN in his attack. He discussed the case with Mike Huckabee, asking, as a Southern governor, how he dealt with similar cases.

RELATED: O'Reilly To Trayvon Martin Family Attorney: 'It's Wrong To Convict Anybody On Television'
"MSNBC, and CNN to some extent, have a vested interest in seeing Zimmerman punished," O'Reilly argued, playing clips of Al Sharpton and Roland Martin discussing the case. "They will say racial injustice has been done if he is not convicted, he argued, "and that can lead to violence." While he excused Martin's parents and attorneys– and George Zimmerman's parents and attorney– from having to worry too much about what they say, given they are not journalists and have a clear vested interest in the story, he did condemn those journalists that took a side, accusing them of "putting innocent people in danger. "I've been doing this for 37 years never seen anything like this," O'Reilly argued, suggesting MSNBC is "letting this guy [Sharpton] go crazy."
Huckabee argued "the focus should be on the tragedy of his death, not the exploitation of his death," making a point to note that "in this country, we still are innocent until proven guilty, and that happens in a courtroom– not MSNBC." Even when the case goes too slowly for one's tastes, Huckabee argued that in those cases "you quickly say, 'We don't know what the facts, are but we'll get to the truth.'" Huckabee also gave some examples of what he, as governor of Arkansas, did during racial and ethnically troubling cases– recognizing "the elephant in the room" but assuring the public that the justice system works.
The discussion via Fox News below:

Have a tip we should know? tips@mediaite.com