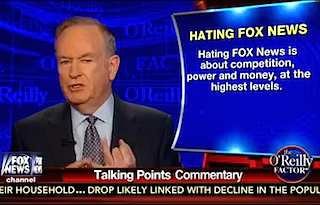 "Hating Fox News." That was the subject of Bill O'Reilly's opening "Talking Points Memo" segment Monday night. The host's monologue veered from the recent polls that shows Fox News is the most-trusted news network in America to the media coverage of Hillary Clinton's email controversy.
In O'Reilly's view, the only reason why "the left" challenges the conservative agenda so aggressively is because they can't compete with the ratings that Fox News manages to pull in every night. Essentially, it's the part of the argument that Fox gave to Rachel Maddow in response to her inquiries about discrepancies in O'Reilly's reporting.
"There is no question that powerful people in Washington are using websites to smear political opponents," O'Reilly said, perhaps referring to his own situation. He said those stories move from "cyberspace" to the mainstream media, which "gleefully promotes the defamation for political reasons."
"MSNBC and CNN are getting hammered economically by Fox News," O'Reilly added. "The failure of those operations to compete effectively against us has cost them hundreds of millions of dollars. Some who work for those channels are desperate, their own jobs now in jeopardy."
"So hating Fox News is about about competition, power, and money at the highest levels," he concluded. "If FNC did not exist, America would be a far different place and the far left ideology would have a far easier time. But we do exist and now dominate the primetime news cycle. Not good news for progressive politicians, the liberal media, and crazed zealots on both sides. Therefore, meetings are held, strategies devised, political assassins hired. Is there any doubt for whom they are gunning?"
At the end of the segment, O'Reilly addressed the latest developments surrounding his disputed reporting on the JFK assassination, directing viewers to read a statement from his former colleague. You can find more details about that story and video of O'Reilly's comments here.
Watch video below, via Fox News:
[Photo via screengrab]
— —
>> Follow Matt Wilstein (@TheMattWilstein) on Twitter
Have a tip we should know? tips@mediaite.com