O'Reilly on 60 Minutes: 'I Was a Little Thug,' Now I Get Millions 'For Being a Big Thug'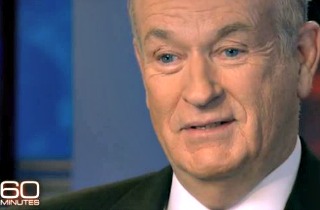 Fox News Channel host Bill O'Reilly appeared on CBS' 60 Minutes on Sunday night to discuss his latest book, Killing Jesus. O'Reilly opened up about his show preparation, his media empire, and how he has matured since his youth. "I was a little thug, and now I'm being paid millions of dollars for being a big thug," the Fox host said of his youth.

After explaining what he called the divine origins of his decision to write the story of Killing Jesus, O'Reilly moved on to discussing his media empire.
"I think I'm the only national anchor man who writes his own stuff," O'Reilly told Norah O'Donnell as he was dictating one evening's script to a producer. "And I write the promos too."
RELATED: O'Reilly Hits Obamacare 'Hysteria,' Warns Against Gov't Shutdown: 'Washington Would Become Detroit'
O'Donnell noted that O'Reilly's $20 million per year salary might be a reason why he can afford to say that "money doesn't mean that much to him."
"I never once in my life did any job for money," he professed.
O'Donnell made O'Reilly react to an interview with Mike Wallace where he was accused of being "addicted to power."
O'Donnell confronted O'Reilly about his suggestion that he did not drive a Mercedes Benz, when his wife did drive that vehicle at the time. "That's her," O'Reilly said. "That's not me."
O'Donnell went over his media empire which includes merchandise, live shows, and selling photographs of himself with fans. The Fox News Channel host said he would never pay $500, the going rate for a photograph, to take a picture with himself.
O'Donnell noted that O'Reilly's school teachers regarded him as a trouble maker when he was young.
"Ain't America great," he said. "I was a little thug, and now I'm being paid millions of dollars for being a big thug."
Watch the clip below via CBS:
[Photo via screen grab ]
— —
> >Follow Noah Rothman (@NoahCRothman) on Twitter
Have a tip we should know? tips@mediaite.com