O'Reilly on Ferguson Coverage: MSNBC Hosts 'Terrified of Being Labeled Racist'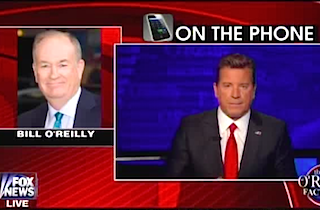 Once again Monday night, Bill O'Reilly interrupted his vacation to call into Fox News to give his latest assessment of the situation in Ferguson, Missouri following the fatal shooting of unarmed teenager Michael Brown by a police officer last Saturday.
O'Reilly began by reviewing some statistics. With 12 million arrests and "only" about 420 shooting deaths per year by police, he said we are dealing with an "infinitesimal situation" that "doesn't happen that much."
Then, he moved on to the media coverage of the story, which he called "grossly irresponsible." He said that "most television journalists are terrified, terrified of being labeled a racist, therefore, they are never going to challenge any kind of smear thrown out in any kind of a situation."
He cited a interview that MSNBC conducted with a witness to the shooting, in which Tiffany Mitchell claimed Brown was shot in the back as an example. "That is a lie. We now know that because of the autopsy," he said. "Was it challenged by MSNBC? No, it was not. It was put out there as fact."
After praising Rep. John Lewis (D-GA) for his more measured approach to the situation, O'Reilly turned to the surveillance video that Ferguson police released that shows Brown allegedly stealing from a convenience store and shoving a clerk.
"What did we hear in the media? This was a smear against Michael Brown, the victim," O'Reilly said. "A smear? How can can facts be a smear? How is that possible?"
Watch the segment below, via Fox News:
[Photo via screengrab]
— —
>> Follow Matt Wilstein (@TheMattWilstein) on Twitter
Have a tip we should know? [email protected]