O'Reilly On Ground Zero Mosque: It's About 'Respect For Feelings' Of The 9/11 Victims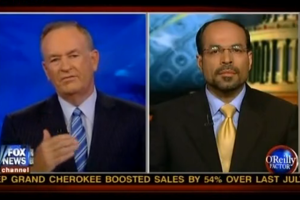 The controversy surrounding the proposed mosque near the former site of the World Trade Center seems only to be getting more heated as its development continues. On last night's O'Reilly Factor, Bill O'Reilly had one of the calmer discussions on the subject on TV recently with Nihad Awad of Council on American-Islamic Relations, where O'Reilly argued that the issue is one of respect, while Awad found objections to it unfounded.
According to Awad, the opposition to the mosque was driven by "the false premise that has been used by the organizers of the opposition" that there is a link between Islam and the Muslim community to the September 11, 2001 attacks. "We are sick and tired of condemning these people every day, in and out," he argued, to which O'Reilly was fairly receptive.
To O'Reilly, however, the issue was not one of whether the owners of the building had a right to build the mosque, but whether it would be taking the moral high ground to relocate given the concerns of some of the 9/11 victims. "It would be wise," he advised, "to say 'We respect that sentiment, we may not agree with it, but we'll move it away.'" He then asked Awad whether he understood the argument against the mosque, and brought up, once again, the theme of respect. This brought out a bizarre argument from Awad, who began brandishing an offensive image of Mohammed he claimed was used by the people opposing the mosque. He then showed the camera a list of families of 9/11 victims that supported the mosque. For the most part, O'Reilly dismissed the evidence, accusing him of dodging his question and telling Awad, "You're holding up something that no one cares about."
Video below:

Have a tip we should know? tips@mediaite.com