O'Reilly On Virginia Assault: If It Had Been Whites Attacking Blacks, MSNBC Would Be All Over It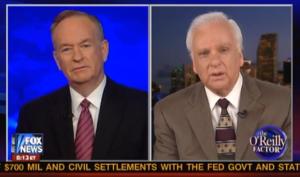 Following his segment about the assault in Norfolk, Virginia, Bill O'Reilly brought in Bernie Goldberg to discuss the case. Recapping the media's very little coverage of the story, O'Reilly asked Goldberg why that is. Goldberg attributed it to "white liberal paternalism," and the two agreed that had the racial aspect of the case been reversed, outlets like MSNBC and The New York Times would have been all over it.
RELATED: O'Reilly Questions Why 'Racially Charged Mob' Assaulting White Couple Was Covered Up By Local Paper
Goldberg gave his take on the story:
Here is what it is really about. It goes beyond journalism, it's a much bigger issue. It's about white, usually white liberal paternalism where they say, 'Well, we really can't hold black people up to the same standards as we hold white people up to. That's why we are not putting it in the paper. They are different.' So two things happen after that. One, the newspaper, the media, they don't want to air that kind of dirty laundry because it's kind of embarrassing for the black community. And two, they don't want to give ammunition to the bigots who probably would say, you see, that's how they all behave. Now look, we hate, we detest the bigots. But a newspaper has a responsibility to cover legitimate news.
He and O'Reilly both found it ridiculous that editor of The Virginian-Pilot, Denis Finley, did not find out whether the attack was racially motivated while O'Reilly producer Jesse Watters went down to Virginia to find information.
"Isn't it prejudice?" O'Reilly asked. Goldberg responded that he would go further and call it "a form of racism" to not expect the same standards from black people.
O'Reilly then cited a double standard: "You can't tell me that MSNBC, if it were reversed, wouldn't be every show, Al Sharpton, Jesse Jackson, on and on and on."
"So would the New York Times. it would be a big story," Goldberg said. "This is where the paternalism kicks in. They don't A) they don't expect the same standards from black people. Although they'll deny that forever. But, one thing that they can't deny, they don't want to embarrass — they don't want to air this kind of dirty laundry."
Take a look, via Fox News:

Have a tip we should know? tips@mediaite.com