O'Reilly Panel Clashes Over Whether Celebrities Stirring Up Controversy Reflects Poorly On Obama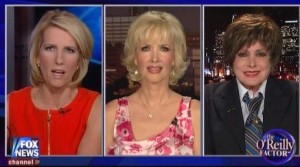 Laura Ingraham, filling in on The O'Reilly Factor today, took note of President Obama's strong support in Hollywood. Ingraham ran two clips of comedian Chris Rock to start out the segment: one where he talks up Obama as "our zebra president," and another where he tears into Mormons by proxy of Mitt Romney for the church's former beliefs regarding African-Americans. Ingraham asked if controversy like that was worth it for Obama to be seeking Hollywood endorsements.
RELATED: Chris Rock On Playing Zebra In Madagascar 3: 'In Honor Of Our Zebra President'
Guest Jeanne Wolf pointed out that Chris Rock is just a comedian, and like most comedians, he enjoys going off the cuff and saying things that might anger some people. She told Ingraham that, if anything, Rock is glad to get all the news coverage about his remarks because it was in the context of his movie promoting.
Ingraham agreed, but then turned to other celebrities like Will.i.am, Alec Baldwin, and (all together now) Bill Maher, who have made choice political statements of their own in the context of their support for the president. She wondered if this all reflects poorly on Obama and if it makes him less presidential. Actress Janine Turner focused more on the big picture: Obama getting celebrity support is not going to matter to most Americans, especially considering the state of the economy right now.
RELATED: Chris Rock Takes Jab At 'Romney's Crew': Mormons Believed Black People Were The Devil
Wolf noted that another important reason Obama is reaching out for Hollywood support so that he can simultaneously get the attention of young voters. When she went back to downplaying the idea that Rock is just playing for laughs, Ingraham framed it another way.
"It looks immature and it… in the end, the country is on the brink, and the president looks frivolous and immature. We are on the brink. And he's having fun."
Watch the video below, courtesy of Fox News:
Have a tip we should know? tips@mediaite.com
Josh Feldman - Senior Editor