O'Reilly Panel: 'The Idea That This Punk Weiner' Is A 'Big Deal' To Liberals Is 'Crazy'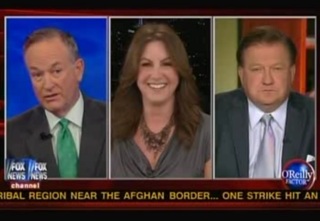 While many on the left and right consider the rapid downfall of Rep. Anthony Weiner as a cautionary tale about men in power, Bill O'Reilly tonight posited that the issue is far more of a media story, since, with Rep. Weiner's exit on the horizon, "the liberal propaganda machine is taking a huge hit." His two liberal guests, however, didn't buy the argument that Rep. Weiner was an essential mouthpiece to the left, with Bob Beckel calling the idea "crazy."
O'Reilly argued that Rep. Weiner was on television more than most Congressional Democrats, and that he did more to promote progressive ideas than anyone in Congress. both Beckel and radio host Leslie Marshall found the idea preposterous, for different reasons. Marshall noted that in California, no one really knew who he was, but even more problematic, he's just "not the most likable guy… or loved by many liberals." O'Reilly then challenged her to name one lovable liberal, "besides Bob Beckel, of course." Marshall named Rep. Charlie Rangel, to which O'Reilly laughed.
Beckel agreed with Marshall, but was even more visceral about Rep. Weiner's anonymity. "Yeah, he's on TV on CNN and MSNBC," he joked, where "243" people are watching. "He should be out of here, it won't hurt us at all." He added that "the idea that this punk Weiner is somehow a big deal to liberal Democrats is crazy!" He also cited Bill Clinton as a better mouthpiece.
O'Reilly stuck to his guns, however, and joked that the alternative to Rep. Weiner was MSNBC contributor Eugene Robinson: "Eugene Robinson has a cot that he sleep on over there… sometimes he doesn't even know what show he's on," O'Reilly joked.
The segment via Fox News below:

Have a tip we should know? tips@mediaite.com