O'Reilly Panelists Clash Over Link Between Climate Change And Hurricane Sandy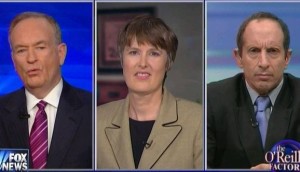 Climate change is at the forefront of everyone's mind following the massive hurricane that hit the east coast, and Bill O'Reilly brought the debate to his show tonight. He brought on two guests on different sides of the climate change debate, asking if Hurricane Sandy is a result of global warming or if it is simply part of nature's natural cycle.
RELATED: Chris Matthews Goes Off On Climate Change Skeptics: 'Pigs' Who 'Don't Care About The Planet'
Meteorologist Joe Bastardi criticized Al Gore for saying that global warming has caused bigger and more frequent hurricanes over the past few years. Bastardi pointed out that since Hurricane Katrina, tropical activity has dropped to "record low levels," and disputed the idea that just because New York has been hit twice in two years by a big hurricane means that global warming has anything to do with it.
Brenda Ekwurzel pointed to a number of environmental factors that may be impacting the strength and frequency of hurricanes, and said that the rise of sea levels are having an impact on water levels following hurricanes. O'Reilly suggested that it could just be the "cyclical" ways of nature, to which Ekwurzel responded that if people simply "ignore the factors of climate change, we do that at our peril."
O'Reilly agreed with her point that even if hurricanes are cyclical, humans need to have systems in place to deal with increasing natural disasters. Bastardi maintained that the U.S. is simply "returning to the cycle of the 1950s," and railed against people trying to "fight a ghost that's not there" and wasting resources to do so.
Watch the video below, courtesy of Fox News:
Have a tip we should know? tips@mediaite.com
Josh Feldman - Senior Editor