O'Reilly Pounces On Robert Gibbs For Admitting He Lied On Drones, Clashes With Bob Beckel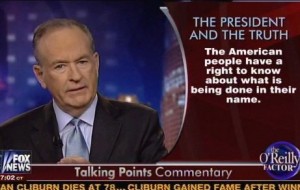 Tonight Bill O'Reilly took on former White House press secretary Robert Gibbs' admission he was told to lie about the drone strike program by the White House. O'Reilly said that the American people should at least expect a certain level of honesty by the White House, bringing on Bob Beckel to discuss how much about covert programs the public has a right to know, and whether or not the Obama administration has lived up to its promise of transparency.
RELATED: Fmr. Press Secretary Gibbs Admits He Was Told 'Not To Acknowledge' That Drone Warfare 'Exists'
O'Reilly opened by pointing out how President Obama pledged at the start of his first term to be a transparent administration, followed with Gibbs' admission that he was basically told to lie to the press corps. O'Reilly said that while the drone program is effective and should stay covert, people have a "right to know what is being done in their name" and should have an idea of the administration's "general philosophy of combat operations."
O'Reilly accused liberals of betraying a double standard in not being outspoken about Gibbs, saying that if Dana Perino ever admitted that the Bush administration told her to lie, they would go nuts. O'Reilly singled out Jon Stewart for having the intellectual honesty to really tear into Gibbs over the story.
O'Reilly then brought on Beckel, who immediately dismissed O'Reilly's assertion that this is in any way "devastating" to the Obama administration. Beckel argued that Gibbs merely said he was told not to publicly talk about a top-secret operation. O'Reilly was surprised at how much Beckel sounded like "a right-wing guy" yelling about how the public doesn't have a right to know, drawing a comparison to Vietnam.
O'Reilly said whereas during the Vietnam era journalists were encouraged to do investigative work, there now appears to be a sense of complacency than on the press. Beckel shot back, saying that there has bit quite a lot of reporting on the drone strike program. When O'Reilly brought up the transparency issue, Beckel admitted that Gibbs could have at least acknowledged the program's existence without providing too many details.
Beckel tried to dismiss just how transparent the Obama administration is supposed to be, but O'Reilly countered that it is staggering considering how much was made in public promises to be transparent.
Watch the video below, courtesy of Fox News:
—–
Follow Josh Feldman on Twitter: @feldmaniac
Have a tip we should know? tips@mediaite.com
Josh Feldman - Senior Editor