O'Reilly & Powers Shouting Match Over Terrorism Descends Into Fight Over Whether al-Qaeda Is Like The Mob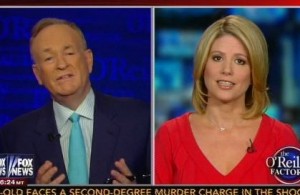 A few weeks ago, Bill O'Reilly debated Kirsten Powers over the drone war and challenged her to present him with her personal strategy for fighting the war on terror. Tonight Powers made good on the challenge, and even fought with O'Reilly over whether people hypothetically testifying against members of al-Qaeda face the same kind of threats mob snitches do, with O'Reilly insisting they're incredibly different.
Powers told O'Reilly she supports the NSA surveillance programs, as long as there is sufficient oversight and they are required to get warrants to read through people's personal e-mails. O'Reilly declared, "That's not gonna stop the jihadists," adding that the most important thing is to kill them and accused Powers of not wanting to do that.
RELATED: O'Reilly And Powers Get In Shouting Match Over Drones: We Shouldn't Attack The Enemy Because 'They Might Get Mad?'
Powers brought up O'Reilly's support of drone warfare, and insisted that drones create more terrorists and even used the words of former General Stanley McChrystal to back up her statement. O'Reilly dismissed it, and immediately turned to torture. Powers said that it's possible to interrogate and make suspects "uncomfortable" without torturing them, but said they need to first have an actual trial.
O'Reilly interrupted, "You're living in a theoretical world." He said that it's impossible to have a fair trial against suspected terrorists because witnesses are too afraid of repercussions of their testimony. Powers sighed and shook her head, arguing that doesn't stop us from putting mob bosses on trial. O'Reilly shouted, "It's a different thing!" They fought over this point and Powers questioned O'Reilly about how he would feel if someone in his family was held in Gitmo.
O'Reilly concluded by calling Powers' anti-terror proposal "awful." She quickly shot back, "I feel the same way about yours."
Watch the video below, courtesy of Fox News:
—–
Follow Josh Feldman on Twitter: @feldmaniac
Have a tip we should know? tips@mediaite.com
Josh Feldman - Senior Editor