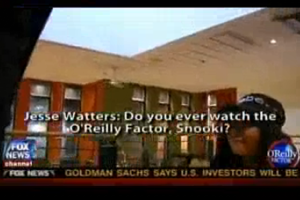 Jersey Shore superstar trainwreck Snooki has been touring the nation to promote her new novel, A Shore Thing, and has probably had to avoid some sketchy characters during her book signings, but none perhaps as perplexing as O'Reilly Factor producer Jesse Watters, who crashed a local signing to reinvite Snooki to the Factor, and demand an answer as to why she won't go on the show.
Bill O'Reilly could not have appeared more pleased with Watters, who braves confronted Snooki's PR team to ask the pint-sized pop culture icon why she refuses O'Reilly's interview requests. According to O'Reilly, he simply "could not resist" stopping by and asking "We invited you on the show, but your people wouldn't let you come on. What's up with that?"
Snooki didn't answer, although her publicist seemed enraged and kicked Watters out– but not before he could ask Snooki whether she watches the show ("not really," she replied, a question mark trailing towards the end of her answer. By way of further invitation, he even gave her a preview of the interview questions: "O'Reilly wants to talk to you about Obamacare, Afghanistan, the Jersey Shore…"
The situation didn't really end well for Watters, who neither managed to book Snooki nor kept his privilege of entering the bookstore, garnering a permanent ban. O'Reilly, meanwhile, seemed proud of his producer, and once again invited Snooki on the show personally. We can only hope that Snooki reconsiders; after all, what could happen on the Factor that would be more embarrassing than her misadventures on Jersey Shore?
The segment via Fox News below:

Have a tip we should know? tips@mediaite.com