O'Reilly Producer Confronts Editor Of Virginia Paper About Covering Up 'Racially Motivated' Assault
O'Reilly Producer Confronts Editor On Covering Up 'Racially Motivated' Assault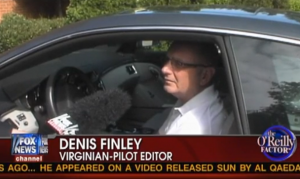 On his show Monday, Bill O'Reilly started off by following up on the assault case in Norfolk, Virginia — in which two Virginian-Pilot reporters, Dave Forster and Marjon Rostami, were attacked by a group of black men. The story went unreported in the paper for two weeks, and O'Reilly has been following the case since last week. In this update, we heard from the paper's editor himself.
RELATED: O'Reilly Questions Why 'Racially Charged Mob' Assaulting White Couple Was Covered Up By Local Paper
The Norfolk police are refusing to release the 911 tape, saying it would hurt the investigation. "How could that be possible?" O'Reilly asked, adding that the couple has filed complaints against the police department, alleging that the investigation hasn't been handled properly and the police did not want to arrest or find those who attacked the couple. Denis Finley, editor of The Virginian-Pilot, declined to speak with O'Reilly, but did briefly speak to Jesse Watters, a producer for The O'Reilly Factor.
O'Reilly played their exchange:
Finley: This story has been blown out of proportion. That's not to diminish the fact that I had two reporters who got beaten. But, what it amounts to is a street altercation, not a mob attack. No evidence that it was a racial attack.

Watters: We spoke to some people today who said that, you know, there may have been some Trayvon Martin retribution. You had people on ABC saying that when people come around this neighborhood, that aren't from this neighborhood, they better watch out. You know, if you have black mobs, five or six people beating up white people, you don't think that the community deserves to know that?

Finley: Well, was it a black mob or was it a street altercation? There were a handful of people.

Watters: Your own reporters said that it was about 30 people on the street.

Finley: On the street, yes. But, a handful involved in the fight. A handful.

Watters: But they were outmanned by quite a considerable amount of people?

Finley: Sure, sure.

Watters: And a woman was attacked?

Finley: A woman was involved. But, again, simple assault. It was not a mob attack. And there is no way for me to know whether it was racially motivated.
O'Reilly offered Finley some advice: "It's your job to find out whether it was racially motivated. That's what the press does. You don't sit around wondering and ignoring the story, that's absurd."
He then criticized the state's attorney general, Ken Cuccinelli, for deciding not to intervene or provide oversight. This is particularly troubling, O'Reilly said, because the couple has filed formal complaints against the police department. O'Reilly appealed to the state's governor, Bob McDonnell, who, O'Reilly said, has agreed to take a look at the case.
He digressed to the bigger picture: "It is inconceivable that had a white mob set upon two black Americans the media would ignore the story."
Watters then joined O'Reilly to discuss the case, confirming some details mentioned earlier in the segment, such as the death threats and the couple's unhappiness with the police department. However, he said, the gang unit in the police department has taken over the case, which they are pleased with.
Take a look, via Fox News:

Have a tip we should know? tips@mediaite.com