O'Reilly Proposes To Laura Ingraham A 'Beer Summit' With Her, Obama, And Ed Schultz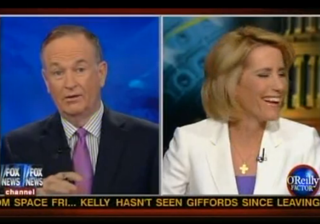 Laura Ingraham made her first television appearance after Ed Schultz's long, somewhat gut-wrenching apology, and, as she did on her radio show earlier, she graciously accepted the apology– even going as far as inviting detractors to "tease me in a humorous fashion," but not to be nasty. But while she kept the spotlight straight on Schultz, Bill O'Reilly saw his suspension as indicative that the new sheriff in town at MSNBC– Comcast– was cleaning house.
O'Reilly noted in his Talking Points Memo that Schultz's suspension was merely the latest in a series of disciplinary moves after "the firing of a hateful commentator there" close to the time Comcast took over, and revisited that narrative later with Ingraham. But first, he asked Ingraham to respond once again to the apology, to which she said she couldn't not accept it if offered, but that she had a new understanding of how minorities on the right are treated. "This is what I think conservative women," she argued, "and to some extent African American men who happen to be conservative– even Latino men who are conservative– have to face." In other words, this is far bigger than Ed Schultz.
O'Reilly agreed that this was bigger, but not in a social way– it was bigger within the corporation. O'Reilly argued that those at NBC "encourage this personal attack stuff" and Schultz simply "flashed back to the old days." But even O'Reilly didn't hit Schultz too hard, even joking: "I want to get you and Ed Schultz and the President and have a few beers." "As long as you're buying!" Ingraham replied.
The segment via Fox News below:

Have a tip we should know? tips@mediaite.com