O'Reilly Questions Study On GOP Youth Outreach: Why Should We Care About 'Kids Who Don't Know Anything'?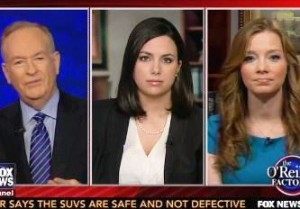 A report released by the College Republican National Committee found that the GOP lost young voters because many young people view the Republican party as "closed-minded, racist, rigid, [and] old-fashioned." Bill O'Reilly brought on CRNC Chairwoman Alex Smith and research analyst Kristen Soltis, who helped write the CRNC report, to explain their findings. O'Reilly questioned the reasons young people don't like the GOP, and wondered why the Republicans should even bother listening to "a bunch of kids who don't know anything."
RELATED: 'Closed-Minded, Rigid, Racist': Report Details How 'Dismal' GOP Lost Young Voters
Soltis told O'Reilly that most young people believe that "Republicans don't have an answer to the problems that are facing them," particularly when it comes to their personal financial issues. O'Reilly asked how they could possibly think Obama's better on the economy. Soltis explained that while young people understand how bad the economy is, they believe Obama is "trying" to fix things and so give him an "A for effort."
O'Reilly rolled his eyes and asked why he, let alone the national Republican party, should care about the opinions of "a bunch of kids who don't know anything." He challenged Smith's claim that the GOP appeared to ignore young voters, saying that while Barack Obama was definitely younger and hipper than Mitt Romney, he didn't "see a big difference in the two presentations" in how both appealed to young people.
Smith pointed out that young people ranked "coolness" a lower priority than being hard-working and responsible. O'Reilly said these are GOP tenets, and so concluded that it must be social views that are coloring how young people view the GOP. Soltis, however, pointed out that while young people are overwhelmingly pro-gay marriage, they are split down the middle on abortion, so it's not "impossible" to imagine them winning over young people on social issues, but it's still economics where they have to win the battle.
Watch the video below, courtesy of Fox News:

—–
Follow Josh Feldman on Twitter: @feldmaniac
Have a tip we should know? tips@mediaite.com
Josh Feldman - Senior Editor