O'Reilly Rails Against Gov't Diversity Training: Tax Dollars Shouldn't Be Used To Promote 'Progressive Thought'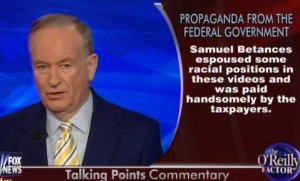 Bill O'Reilly tonight took on the controversial diversity trainer hired by the Department of Agriculture to lecture employees about how all members of the federal government have been guilty of discrimination. O'Reilly was amazed that tax dollars were actually paying for the government to hire someone promoting a left-wing point of view, and vowed that if he ever got the trainer on his show, he would "shred him verbally" and "destroy him."
RELATED: 'The Pilgrims Were Illegal Aliens': Megyn Kelly Panel Takes On 'Brainwashy' Diversity Training
O'Reilly reminded viewers of videos uncovered showing Dr. Samuel Betances "demean[ing] the United States" and indoctrinating his audience while receiving payment from the federal government, saying things like the Pilgrims were illegal aliens and federal government workers have all discriminated at some point. He highlighted how holding these sensitivity seminars costs quite a bit of taxpayer money, leading O'Reilly to ask, "Why is this happening?" He answered his own question by saying "progressive thought is in" under the Obama administration.
O'Reilly said, "I now pronounce the federal government officially out of control."
Alexis McGill Johnson acknowledged that Betances is "a little hokey," but defended his job of trying to promote diversity awareness within the government. O'Reilly argued that he went far beyond that to basically call the United States an "unworthy nation," saying that taxpayer dollars should not be paying to promote any one particular point of view. Judicial Watch president Tom Fitton disputed McGill Johnson's claim that the seminars were optional, arguing that it was in fact mandatory for USDA employees.
Fitton said that such diversity programs are widespread all over the federal government, saying that his group has received a lot more e-mails from people saying this is just 'par for the course," even in the military. O'Reilly tried to get McGill Johnson to understand why he objects to his taxpayer dollars going towards something he disagrees with. She shot back that people didn't like the bailout but ended up paying for it anyway. When she argued that corporations do such trainings all the time, O'Reilly said they have every right to since they are private institutions.
O'Reilly concluded by saying he wants Betances on his program, promising to "shred him verbally" and "destroy him," though he doubted Betances would ever agree to coming on his show.
Watch the video below, courtesy of Fox News:
—–
Follow Josh Feldman on Twitter: @feldmaniac
Have a tip we should know? tips@mediaite.com
Josh Feldman - Senior Editor