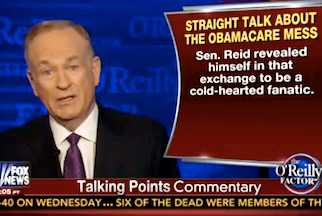 In his opening "Talking Points Memo" Thursday night, Bill O'Reilly updated his viewers on the state of the government shutdown and the fight over the Affordable Care Act. The host had some particularly harsh words for Senate Majority Leader Harry Reid, who he called a "cold-hearted fanatic" for comments he made about funding for the National Institutes of Health Wednesday.
But O'Reilly began by comparing Obamacare to an innocent high school dance that ends up getting crashed by a "vicious motorcycle gang." While before, he said, we did not know what the "unintended consequences" would be, not that we are seeing jobs being cut and premiums going up, Republicans are obligated to step in and try to stop the law from being implemented.
But it was comments by Reid at a press conference about the shutdown that really got O'Reilly riled up. On Wednesday, CNN's Dana Bash asked Reid why he wouldn't want to fund the National Institutes of Health if it could save one child from dying of cancer. "Why would we want to do that?" Reid asked, before explaining that he does not want to let Republicans determine which parts of the government should be funded.
"Reid gets away with that nonsense because hard news reporters have to be somewhat respectful," O'Reilly said. "But I don't. Senator Reid revealed himself in that exchange to be a cold-hearted fanatic, a man who couldn't care less about compromise or the suffering of Americans."
From there, he argued that Democrats don't actually care if Americans get better health care, saying, "It's all about ideology." But he seemed to argue that Republicans should stop fighting and wait and see how it plays out. One year from now, he said, "we will know if Obamacare is best for the majority of Americans. If it is, it will take deep root and the president will be hailed a champion. If it is not best for the people, then it should be repealed."
His suggestion was that President Obama should delay the individual mandate for a year, a move that is popular among Republicans but would likely undermine financial stability of the system.
Watch video below, via Fox News:
[photo via screengrab]
— —
>> Follow Matt Wilstein (@TheMattWilstein) on Twitter
Have a tip we should know? tips@mediaite.com