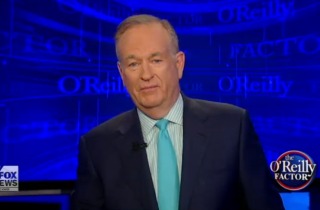 Bill O'Reilly is correct when he consistently hammers home the theme of what a distracted nation we have become…particularly when it comes to America's youth.
No doubt: The phone is our world now. Young, old, in-between…it doesn't seem to matter. We are a country that simply cannot not look at our iPhones and Galaxies for less than 60 seconds before beginning to twitch (a recent USA Today Poll shows 47 percent of adults say they couldn't last more than a day without their phone). There's no number on it, but that number likely doubles for anyone under 20.
Want some more stats around nomophobia ("no-more-phone-phobia"…it's a real term). Here you go: A Harris Interactive study indicates that among 1,100 adults in the U.S. who use smartphones, 9 percent reported using their phones during intercourse, 55 percent while driving (which isn't unsafe or anything), 33 percent while on a dinner date, and 12 percent in the friggin' shower.
But when it comes to how millennials (18-to-33-year-olds) consume news on said phones, O'Reilly appears behind the times. Exhibit A could be seen on The O'Reilly Factor on Thursday night during a discussion with Bernie Goldberg on a recent Pew study showing 61 percent of young adults stating they get their news from Facebook. O'Reilly–who doesn't have a Facebook account (and before you say older people aren't on there, consider this 2013 survey that shows two-thirds of Americans in O'Reilly's age group have an account)–stated to Goldberg that he "thought Facebook was this thing where you just talk to your friends and stuff," before asking, "How do you get news on it?"
If that's the lead question, the segment is already in trouble.
Goldberg — who values candor over camaraderie — pushed back (despite self-deprecatingly admitting that he, like O'Reilly, is "one of 12 people in all of North America who isn't on Facebook") by explaining why getting news from Facebook ain't such a bad thing while breaking down the various ways it can be done (posting a story link on a status, "liking" an article/column, etc). "Think of it as a modern-day newsstand," Goldberg surmised.
In my case at 44, I read the same sites every morning while lying in bed waiting for the baby to signal she's awake (in no particular order: New York Post, New York Daily News, Drudge, Politico, Mediaite, New York Times, Washington Post, National Journal, Deadspin). But throughout the day, I'll check in on Facebook…particularly when alerts of personal notifications pop up on the phone. And oftentimes, I'll end up reading articles that certain friends put up on their feed (at least the friends whose taste/intellect/compass I trust). As for my wife–who leads an unpredictable and hectic schedule–she seems to get all of her news (particularly the very local stuff) from her Facebook feed while hiking with the dog or watching TV.
What O'Reilly needs to understand is the sharing process is no different than the way I planned my honeymoon in terms of trust. To review, said wife and I decided to go to various parts of Italy instead of sitting on a beach for two weeks (Rome, Sorrento, Tuscany, Venice…making it like four district vacations in one country). But when planning, we didn't go to a travel agent, but rather turned to friends and relatives who had already visited. From there, hotels, restaurants, attractions and itinerary were almost completely organized for us by them. Why? Because we trusted the sources.
Same goes for Facebook sharing of news stories: Oftentimes the news items shared by others are from sites I normally don't visit or simply missed in the morning. And when someone in my feed who has built a good reputation for solid recommendations puts up a story, I almost always click on it and rarely regret it. It's no different from when my father used to hand me a piece from The Times across the dinner table growing up and suggest (OK, pretty much command) that I read it, except now I don't need to be at home…and the suggestions are more plentiful and diverse.
Another aspect not covered in the Factor segment is the news that some major media outlets want their content hosted on Facebook. Per the New York Times in March:
With 1.4 billion users, the social media site has become a vital source of traffic for publishers looking to reach an increasingly fragmented audience glued to smartphones. In recent months, Facebook has been quietly holding talks with at least half a dozen media companies about hosting their content inside Facebook rather than making users tap a link to go to an external site…In addition to hosting content directly on Facebook, the company is talking with publishers about other technical ways to hasten delivery of their articles.
The O'Reilly-Goldberg analysis can be summed up thusly:
GOLDBERG: Look, young people aren't going to be sitting around the kitchen table with a hard copy of the "New York Times."

O'REILLY: Why not? Why not? Why not, Bernie? Why can't they read a newspaper?

GOLDBERG: Well, they can.

O'REILLY: Yes, why wouldn't they?

GOLDBERG: There is no law against it. Because that train has left the station.

O'REILLY: Why did the train leave? Why can't the train come back? I don't understand why a younger person because when I was 18 I was reading the newspaper.

GOLDBERG: There was no internet. There was no internet. It's a different delivery system. (Adding later): The train that has left the station. It is not coming back.
O'Reilly is right when he says Americans are distracted from the real world by being buried in their phones all day. Go to any restaurant: Half the patrons are enjoying themselves, half are looking down at a screen. But some of those who aren't playing Candy Crush or sending dozens of inane texts are absorbing news content anywhere, anytime. Some of it is trash, sure… but some of it is quality stuff from respected sources.
Either way, the days of going to the end of the driveway to grab the paper are over. That train departed years ago.
And when 150 million Americans — nearly half the population — are members of a particular social networking hub, that's one hell of a delivery and sharing platform.
O'Reilly should give it a try sometime before dismissing its merits.
Watch below, via Fox News:
— —
>> Follow Joe Concha on Twitter @JoeConchaTV
Have a tip we should know? tips@mediaite.com