O'Reilly Slams AP's 'Biased' Romney Photo: Obama Benefiting From Nonexistent 'Fair' Reporting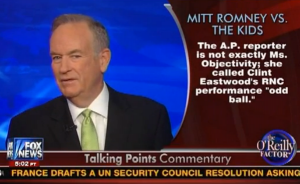 On his show Tuesday night, Bill O'Reilly took to his Talking Points segment to join in on criticism of the Associated Press' recent photo of Mitt Romney (which made for jokes aplenty). Taking aim at the media in general, O'Reilly further chastised the AP and others for focusing on the outrage du jour instead of the battle between "capitalism and quasi-socialism."
RELATED: AP's 'Unflattering' Romney Photo Elicits Chuckles, Jokes…And Criticism
O'Reilly called the photo a "foolish shot" that makes Romney "the butt of stupid jokes. Pardon the pun." It's "a cheap shot," he said. And clearly not the picture of objectivity. The AP, which is one of the largest news wires in the country, is "biased against Mitt Romney." Newspapers all across the country carry AP stories and photos every day, and thus this is a "huge advantage" for President Obama, O'Reilly remarked.
But "perhaps the best example of what the national media has become in America," O'Reilly said, is the Big Bird debacle. In repeatedly hitting Romney for his remarks about cutting funding to PBS, Obama "apparently thinks he has an opportunity with this controversy," he said — particularly noting Obama's line about Romney wanting to let Wall Street "run wild."
Obama and those who share his view on the topic are choosing to throw the baby out with the bathwater, O'Reilly argued. Instead of reforming Wall Street with effective oversight, they are attacking it.
Within that issue lies the central point the media should really be concentrating on, O'Reilly said: the "battle between capitalism and quasi-socialism." That's "the real story" in this election, he asserted.
But the AP and others are now "so invested" in reelecting Obama, O'Reilly said, that "fair, responsible and insightful reporting has nearly vanished." And Obama's benefiting from it.
Take a look, via Fox News:

Have a tip we should know? tips@mediaite.com