O'Reilly Slams Liberal Media's Dishonest 'Anti-Gun Agenda,' Clashes with Howard Kurtz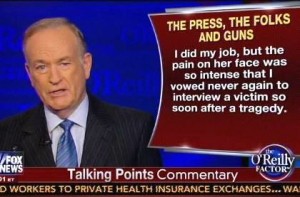 Plenty of media outlets brought up the same false report that the Washington Navy Yard shooter had an AR-15 at the scene, but as far as Bill O'Reilly's concerned, Fox News was one of the only ones that didn't use the erroneous news to push an agenda. O'Reilly was disgusted by how the "anti-Second Amendment" crowd in the media jumping the gun to try and push a gun control agenda. However, Fox media critic Howard Kurtz told O'Reilly he's overstating the case, arguing that merely having the gun control conversation again doesn't necessarily equate pushing an agenda.
O'Reilly brought up the New York Daily News' AR-15 cover, as well as MSNBC making a "big deal" about the news, practically "celebrating" it as an excuse to connect it to past mass shootings. He called it a "coordinated effort" and "hysterical reaction" from the liberal media "opposing the majority" on gun rights.
Kurtz told O'Reilly while someone like Piers Morgan may be guilty of that, it's unfair to paint the entire media as "anti-Second Amendment fanatics." O'Reilly insisted news organization after news organization kept saying "here we go again" about the AR-15, declaring, "We already had the debate! And it's done!"
Kurtz said it's not "unreasonable" to keep the debate going, telling him that many in the liberal media likely don't have a problem with "legitimate gun owning." O'Reilly shot back that their definition of such has incredibly limited, remarking that Kurtz has to be "kidding" if he thinks it's not institutional bias.
Watch the video below, via Fox News:
[photo via screengrab]
— —
Follow Josh Feldman on Twitter: @feldmaniac
Have a tip we should know? tips@mediaite.com
Josh Feldman - Senior Editor